Five Power Defense Arrangements in the Spotlight With Land Exercise
Drills spotlight the FPDA and ongoing efforts to bolster it to respond to ongoing security challenges.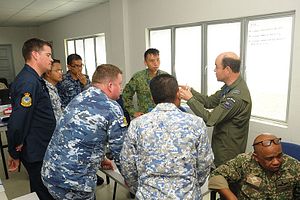 Last week, the five countries that belong to the Five Power Defense Arrangements (FPDA) – Australia, Malaysia, New Zealand, Singapore, and the United Kingdom – completed yet another iteration of a military exercise as part of an ongoing cycle of drills. The exercise once again put the spotlight on the FPDA as a regional institution and efforts to further bolster and update it to respond to ongoing security challenges.
The FPDA was initially formed in 1971 to help defend Singapore and Malaysia after their independence following the withdrawal of British forces east of Suez, and it remains the longest standing multilateral security arrangement in Southeast Asia today.
The FPDA includes a set of exercises that have gradually taken shape – with air exercises and then added land and sea components in the 1970s and 1980s, and then combined and tri-service exercises in the late 1990s and 2000s. The exercise cycle has continued on over the years, with a range of drills including Bersama Shield, Bersama Lima, Suman Warrior, and Suman Protector, which represents the culmination of a particular cycle.
Suman Warrior is the annual land-based exercise held among the five countries. The last iteration, which was held in 2016, was hosted by Malaysia at the Malaysian Army Wargaming Center in Gemas and involved about 180 personnel from all five of the concerned countries. Malaysia also hosted the third iteration of Suman Protector, which is held one every five years, from September to October 2017, which saw scenarios related to maritime security and humanitarian assistance and disaster relief as well as several non-FPDA representatives invited to observe the drills.
From May 28 to June 8, as expected, the five FPDA countries held the latest iteration of Exercise Suman Warrior. According to Singapore's defense ministry (MINDEF), the 27th iteration of Exercise Suman Warrior, which was hosted by the British Army in Wiltshire in the United Kingdom, involved over 150 personnel from all five countries. Few additional details were publicly provided in the way of specifics.
Apart from the exercise itself, while Suman Warrior was going on, the defense ministers from FPDA countries also met on June 2 as they have been doing in recent years on the sidelines of the Shangri-La Dialogue in Singapore. During the breakfast meeting hosted by Singapore's Defense Minister Ng Eng Hen, they took stock of ongoing work and also noted the continued emphasis on updating the FPDA to be relevant to security challenges today, including humanitarian assistance and disaster relief and counterterrorism.