India Makes Waves, Courts Central Asia at the SCO Summit
India's substantive engagement with wider Central Asia will be important going forward.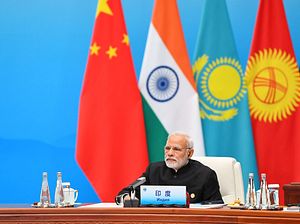 Last week's Shanghai Cooperation Organization (SCO) annual summit in Qingdao in China was the first SCO summit since the grouping's expansion, when India and Pakistan were included as full members at the Astana summit in Kazakhstan last year.
Membership of the SCO includes China, India, Kazakhstan, Kyrgyzstan, Pakistan, Russia, Tajikistan, and Uzbekistan, and countries with observer status in the bloc include Afghanistan, Iran, Mongolia, and Belarus. The SCO began in 2001 as a forum for addressing border disputes in Central Asia and has been expanding ever since to include more countries and cover other issues like trade. This year's summit was special for India as it tried to engage the wider Central Asian region through the platform of the SCO as a full member of the grouping.
From India's perspective, the Qingdao declaration's focus on the fight against terrorism was a welcome development. The declaration condemned all forms of terrorism and underlined that "interference in the domestic affairs of other states under the pretense of combating terrorism and extremism is unacceptable, as well as the use of terrorist, extremist and radical groups for one's own purposes."
Prime Minister Narendra Modi used the platform to enhance India's regional outreach to the wider Eurasia. Coining another acronym — SECURE — in order to facilitate comprehensive security in the SCO region, Modi argued that "there are six dimensions summed up in the English word secure. S stands for the security of citizens, E for economic development for all, C is for connecting the region, U is for uniting our people, R is for respect for sovereignty and territorial integrity, and E is for environmental protection."
He also pushed for greater people-to-people engagement between India and other members of the SCO and underlined India's desire to double the number of tourists from the region. New Delhi is planning to organize a food festival of cuisines of SCO countries as well as a shared Buddhist heritage exhibition in India.
Yet India managed to strike an independent voice when it refused to endorse China's Belt and Road Initiative (BRI) at the SCO. India was not part of the section of Qingdao declaration that referred to the BRI. According to the declaration, "Reaffirming their support for the Belt and Road Initiative (BRI) of the People's Republic of China, the Republic of Kazakhstan, the Kyrgyz Republic, the Islamic Republic of Pakistan, the Russian Federation, the Republic of Tajikistan and the Republic of Uzbekistan, the Member States express appreciation for the joint efforts taken towards its implementation…"
Modi made it clear that New Delhi is supportive of connectivity projects but only those that respect the sovereignty and territorial integrity of nations. "Connectivity in SCO region and in our neighboring countries is a priority for India. We welcome such new connectivity projects that are inclusive, sustainable, and transparent and which respect the sovereignty and territorial integrity of nations," Modi said in his plenary address at the SCO summit.
This was interesting as Modi and Chinese President Xi Jinping managed to take the Wuhan spirit forward in their bilateral interactions and even managed to sign two key agreements. After a year of strained ties during which Beijing refused to share hydrological data on the Brahmaputra River, the two sides reached a pact to share the hydrological data in 2018.
Sino-Indian economic ties got a boost with New Delhi agreeing to the opening of a Bank of China branch in Mumbai and China agreeing to let Indian pharmaceutical companies register for high-quality pharma products in the Chinese market as well as to allow India to export non-Basmati rice to China. The Chinese president will also be visiting India for an informal summit in 2019, accepting the Indian prime minister's invite.
For India, though, the SCO summit was largely an attempt to enhance its profile in wider Eurasia and Central Asia in particular. New Delhi would also be keen on enhancing regional cooperation for countering terrorism, religious extremism, and separatism. India's engagement in Afghanistan is also key in this regard. Modi highlighted this when he suggested that "the situation in Afghanistan is an unfortunate example of terrorism and extremism in our region…. It is our responsibility that causes which threaten Afghan unity, sovereignty, integrity, diversity and democracy in the past will not be repeated."
While the security and economic cooperation generated by the SCO remained rather limited so far and the platform remains more symbolism than substance, its importance has increased at a time when the West remains divided and the United States under Donald Trump is charting a unilateral course.
The Qingdao statement "stressed the importance of … consistently strengthening and developing the multilateral trade system," underscoring the role of world leaders such as Xi and Modi as defenders of global free trade. This was against the backdrop of a bickering G-7 summit where the United States refused to endorse a joint communique with its closest allies in Quebec. With the announcement of tariffs, the Trump administration is challenging the very foundations of the global economic order which America itself had creased post-World War II.
At a time when America is looking inwards and Europe is struggling to come to terms with multiple domestic crises, major powers are looking at multiple coalitions to manage an international order in a high degree of fluidity. New Delhi is no exception. India's substantive engagement with wider Central Asia will be key to its growing aspirations in a rapidly evolving Eurasian landscape.