India-Vietnam Defense Relations in the Spotlight with Bilateral Visit  
Both sides continue to look for advances in this realm of ties in spite of remaining challenges.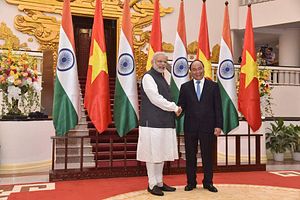 Last week, as expected, Indian defense minister Nirmala Sitharaman paid a four-day official visit to Vietnam. Although the visit was just one of a series of scheduled defense engagements by the two sides in 2018, it once again put the spotlight on growing security ties between the two Asian states.
As I have noted before in these pages, Vietnam and India have been looking to advance their existing defense relationship as part of their wider ties, which were elevated to a comprehensive strategic partnership in 2016. Defense ties have grown in recent years to include not just the traditional components in this realm of ties like exchanges and port calls but also the training of personnel, capacity-building funding and equipment, coast guard collaboration, and pacts on areas such as white shipping and outer space.
That trend in defense ties has continued on into 2018. Defense issues were on the agenda during Vietnamese President Tran Dai Quang's visit to India back in March, where the two sides said they would look to enhance cooperation in areas such as coproduction and technology transfer and also to work on addressing common challenges such as maritime security and cybersecurity. Indian Prime Minister Narendra Modi also noted Vietnam's importance within India's wider "Act East" policy under his leadership during his keynote address at the Shangri-La Dialogue earlier this month, which was expected to be followed up on with engagements for the rest of the year as well.
Defense ties were in the spotlight again over the past week with the expected visit of Indian Defense Minister Nirmala Sitharaman to Vietnam, which is among the highlights on the defense side of the relationship for the year. During the four-day visit, which was to hold the fourth round of annual consultations on defense industry, Sitharaman met with a range of Vietnamese officials, including her counterpart Ngo Xuan Lich and President Tran Dai Quang.
The talks between the two sides took stock on their defense ties and explored areas for further cooperation in areas such as personnel training, technology, and research. In a reception held in Hanoi for Sitharaman on June 13, Quang urged both ministries to implement progress in these areas and said that Vietnam backed the implementation of New Delhi's "Act East" Policy.
Of the various areas within existing defense cooperation, defense production was unsurprisingly in the spotlight the most in media accounts. Sitharaman said in her remarks at the meeting that a major part of New Delhi's defense relationship with Hanoi is expanding its footprint in defense production and bringing to bear technologies it had in collaboration with the private sector. She emphasized that bilateral collaboration should not just include the buying of technology or weapons systems, but the setting up of facilities in Vietnam that could facilitate third country export in remarks that were picked up by Vietnamese state media.
Unsurprisingly, few specifics were publicly disclosed by both sides on detailed next steps. But one development during Sitharaman's visit that was meant as a tangible example of this was opening of a representative office of India's state-owned Bharat Electronics Limited (BEL), its leading defense electronics company, in Hanoi, Vietnam. The opening of the office was framed in the context of India seeking to play a greater role in terms of defense production, not just in Vietnam but in Southeast Asia more generally. BEL was expected to target markets including Myanmar, Indonesia, Malaysia, Thailand, and the Philippines, focused on products and systems such as radar, military communications, electronic warfare, and coastal surveillance.
Of course, the inroads both sides continue to make in the bilateral defense relationship should not obscure broader realities and structural constraints, such as India being just one partner for Vietnam within its wider omni-directional foreign policy, the limits of strategic alignment between New Delhi and Hanoi across specific issues, and the remaining obstacles to development in particular areas of defense cooperation on both sides despite the sunny rhetoric. But it is clear that both sides are taking steps to try to overcome some of these difficulties, and New Delhi's efforts were clear during the past week with Sitharaman's visit.