Joshua Kurlantzick on Democratic Regression in SE Asia
Democracy in Southeast Asia seems to be in decline. How bad is the situation?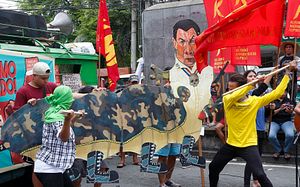 Although the countries of Southeast Asia are at various stages of democratic development, one thing seems clear: the overall trend is one of regression. It's part of a global trend that is manifesting in unique ways in the region. Even in relative brights spots, like Indonesia, there are causes for concern; while countries like Thailand and Cambodia continue to retreat from democratic norms.
Illiberal, strongman populism has proven attractive in recent years in Southeast Asia, Joshua Kurlantzick, senior fellow for Southeast Asia at the Council on Foreign Relations, tells The Diplomat. And that is dangerous for the region's democracies, given Southeast Asia's history of authoritarianism.
What, in your view, are the key factors that have given rise to the trend of democratic regression in Southeast Asia? 
I think there are systemic factors and individual factors – country-specific factors. Certainly, in the Philippines, for instance, Rodrigo Duterte's rise was abetted by a weak party system and a presidential election with multiple candidates splitting the vote, for instance. In Thailand you have what Nicholas Farrelly has called a "coup culture" that certainly exists in some other states, but is quite severe in Thailand. In Myanmar you have the legacy of decades of totalitarian/authoritarian rule.
But I think there are systemic factors at play too. Middle classes in the region – Thailand is a particular example – have often proven themselves uninterested in electoral democracy when that electoral democracy results in potentially redistributive economic policies, or simply policies that might erode the power of traditional elites. In countries like the Philippines, democratic leaders failed to effectively address deep-seated economic problems, like high inequality, and some voters grew so frustrated that they turned to illiberal leaders for new economic prescriptions.
Illiberal, strongman populism has proven attractive in recent years in Southeast Asia, just as it has in North America and Europe, with populists in Southeast Asia or those embracing populist themes stigmatizing outsiders in similar ways as populists in Europe, although sometimes the actual "outsiders" targeted are different from Europe, where much of the targeting has been at migrants. Duterte has relied on stigmatizing drug users as outsiders and Prabowo Subianto in Indonesia has stigmatized ethnic minorities, for instance. The increasing regional influence of China, and the reticence of major democracies to advocate for democracy, certainly plays an important role as well.