Mobile App Developers in India Are Always Fighting Losing Battles
Without timely access to path-breaking technologies, app developers in India can never be on an equal footing with developers in the first world.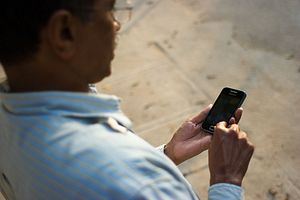 Android, the most popular mobile operating system today, is free and open source. So are almost all libraries and toolchains related to Android application development. Given these facts, one would assume that developers all over the world, no matter how poor a country they come from, have an equal chance at making it big on Google Play, the official marketplace for Android apps. Yet, developers living in India, despite their numbers, rarely manage to develop apps or games that go on to achieve wide international acclaim.
One reason for this anomaly is the lack of timely access to cutting edge hardware technologies. Major innovations in mobile hardware are almost always made available to users in the United States and countries in East Asia months before they are released worldwide. For example, the first consumer device supporting the Google Tango technology, which forms the basis for augmented reality on the Android platform, was released in India nearly six months after it was released in the United States. Tango's successor, ARCore, currently runs on only a handful of devices, most of which are overpriced in the Indian market.
Indeed, developers from India and all other South Asian Association for Regional Cooperation (SAARC) countries find it difficult to afford state-of-the-art hardware even after it's available in their country. While there's no denying that smartphones with path-breaking features are expensive throughout the world, they tend to be priced prohibitively in these countries. Google's Pixel 2, for instance, which is one of the few devices that support ARCore, currently costs nearly 55 percent of an average Indian's yearly income.
Apple's iOS is a close rival to Android. Most Indian developers wanting to create apps for it also face significant economic barriers to entry. All the prerequisites for iOS app development — such as a Mac Mini or a Macbook Air laptop, a sufficiently recent iPhone model, and a subscription to the Apple Developer Program — together cost several years' worth of their disposable household incomes.
Indians wanting to use the latest software services too face similar problems. Global software giants regularly overlook India when they launch new and experimental online services. Only months or years after opening up for users in North America, Europe, and East Asia do they become available for Indians. Developers here are yet to gain access to Google's YouTube Red service, even though it has been available for U.S. users since October 2015, and for South Korean users since December 2016. Similarly, Spotify, which has been available in over 50 countries for several years, is yet to launch in India. Consequently, Indians wanting to create innovative mobile mash-ups using these kinds of services have no choice but to wait.
By the time Indian developers get to lay their hands on new, game-changing technologies, it's usually too late for them to stand out in app marketplaces, let alone gain a first-mover advantage. In fact, they often find themselves entering marketplaces that are already saturated with apps using those technologies. It happened earlier with technologies such as Android Wear and NFC tags. It's happening today with technologies related to augmented reality and virtual reality.
Ashraff Hathibelagal is a freelance software developer and technical writer from India.