Where is the New Japan-Philippines Military Helicopter Deal?
A potentially significant agreement on spare parts appears to be moving forward.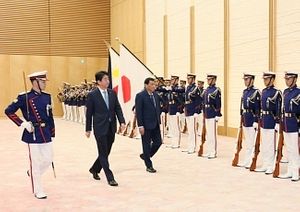 Over the weekend, news surfaced that Japan and the Philippines had made further inroads on a previously discussed agreement that could see Manila acquire helicopter spare parts from Tokyo. Though specifics still remain unclear at this point, it has nonetheless once again put the spotlight on an agreement that would be significant for both sides.
As I noted before in these pages, one of the many areas in terms of the discussion on Japan-Philippines defense relations has been in terms of helicopter spare parts. The Philippine Department of Defense (DND) had previously disclosed that it was in talks with the Japan's Ministry of Defense's Acquisition, Technology, and Logistics Agency (ATLA) about a deal for spare parts. And reports had surfaced last year about a deal for around 40,000 spare parts for the Philippines' UH-1H combat utility (or "Huey") helicopters.
From the outset, as I had observed previously, the deal seemed to make sense for both sides generally speaking. For the Philippines, it would ensure the full serviceability and readiness of its helicopters and potentially extend their already long service life while some of its new helicopters come online, constituting a major gain in a significant item within its broader military modernization. And, for Japan, it would constitute yet another example of substantive defense cooperation with Southeast Asian states, which, despite some significant advances, has also been harder to operationalize despite the oft-cited logic of strategic alignment.
Since then, though a deal seemed to be more of a when than an if question, specifics had remained unclear amid occasional headlines. Last month, for instance, Philippines Air Force Chief Lieutenant-General Galileo Kintanar said that a $96 million parts package could be completed during the third quarter of this year.
Over the weekend, the Japanese defense ministry's Acquisition, Technology, and Logistics Agency (ATLA) reportedly confirmed to the Philippines that the decision would move forward. IHS Jane's reported that a decision had been communicated to Manila for the supply of a wide range of spare parts free of charge following a request last year.
Few additional specifics have been officially disclosed so far about the nature of the agreement, including important details needed to assess its true value and meaning, such as how many spare parts are in question and how the agreement would be structured. Yet assuming that the deal progresses as intended, it would no doubt constitute a significant development for Philippine military modernization, for Japan-Philippine security ties, and for Tokyo's role in Southeast Asia and the Asia-Pacific more broadly.