Who Will Be Timor-Leste's New Prime Minister?
Taur Matan Ruak, rather than Xanana Gusmao, is expected to be appointed the country's new premier.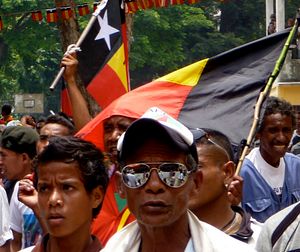 It is almost certain, barring a constitutional calamity, that Taur Matan Ruak will soon be appointed the new Prime Minister of Timor-Leste. In recent days, news emerged that Ruak was named as the prime ministerial nominee of the Change for Progress Alliance (AMP), a coalition of three parties that won last month's general election. He must be officially appointed by the president (of an opposition party) who is thought to be waiting until the last minute to do so.
Not long after the AMP coalition won 34 of parliament's 65 seats in May – meaning it could form a majority government – most commentators predicted the next leader would be Xanana Gusmao, arguably the country's most pivotal political figure and leader of the National Congress for Timorese Reconstruction (CNRT), a dominant party within the AMP coalition.
But Ruak's selection is arguably the most sensible decision the incoming government could have made. Most analysts think Gusmao will still maintain considerable sway, supposedly as an adviser to the Prime Minister, but that sharing power will provide stability within the relatively new AMP coalition. It ensures Gusmao does not solely dictate policy and allows Ruak to try introducing his progressive economic reforms, some of which go against the CNRT's platform.
May's election came less than 12 months after an earlier general election returned an unstable government. Last year, Fretilin, one of the country's two major parties, won the most votes but, even when allied with a smaller party, couldn't control enough seats in parliament to form a majority government. Nonetheless, President Francisco Guterres (of Fretilin) allowed it to form a minority government. This quickly proved unstable and three opposition parties, which came together to form the AMP, twice rejected its political program, forcing new elections.
Despite the AMP winning a majority of seats last month, there were concerns over whether it could provide stability. This primarily stemmed from the major policy differences between the CNRT and the People's Liberation Party (PLP), the party Ruak founded last year after he ended his term as president.
At the 2017 election, the PLP emerged as a leading voice against the prevailing economic agenda, one supported by Fretilin and the CNRT. Both parties had entered an informal alliance in 2015, when Gusmao stepped down as prime minister to allow a younger Fretilin candidate, Rui Maria de Araujo, to take over. The "unity government" fell apart at last year's election.
The PLP has argued that the two grand parties wasted precious government revenue on unnecessary mega-projects that did little to curb unemployment, a considerable problem in Timor-Leste, or to diversify the economy away from its oil dependency. The PLP contends that government spending should instead be focused on agriculture, health care, and education, which are all necessary for economic diversification. Even after joining the AMP alliance, Ruak has continued to criticize Gusmao and his party's economic plans.
If Ruak does become Prime Minister, it would certainly prevent some of the tensions that observers predicted. The likely scenario is that Ruak will be in charge of the government, while Gusmao will be responsible for the country's petroleum administration, practically a bureaucracy-within-a-bureaucracy. Even under the short-lived Fretilin government last year, Gusmao retained his position as Minister of Planning and Strategic Investment. He is now likely to keep the same role, though possibly a different title.
Importantly, this position ensures he has access to "key areas of infrastructure spending in annual budgets," Michael Leach, a Professor of Politics and International Relations at Swinburne University of Technology, told me. As such, this will ensure Gusmao has access to considerable sums of public money and, therefore, considerable power.
"In all, one could reasonably expect that Ruak and Gusmao will have a close working relationship in government as they had when Ruak was Gusmao's Number Two in Falintil during the occupation," said Damien Kingsbury, professor of international politics at Deakin University, referring to the pair's role in the independence movement against Indonesian occupation. Falintil was the military wing of Fretilin during the 24-year independence struggle.
One hopes that this division of power will allow both parties, and both leaders, to achieve their goals, though they will no doubt have to make some important compromises. For the last year, Gusmao has led negotiations with Australia over maritime boundaries and how to process the vast oil reserves in the joint-controlled Greater Sunrise gas fields, which could bring in anywhere between $30 billion and $45 billion in revenue.
But these ongoing negotiations are sodden by a dispute over where the petroleum should be processed. Timor-Leste's negotiators, led by Gusmao, have argued that this should be done on Timor-Leste, at a site in the south of the country. But Australia and the partners of the Greater Sunrise Joint Venture, which include some of the world's largest oil producers, contend that this would be too expensive and hazardous, given the difficulty in connecting gas fields to the mainland.
According to Australia's latest offer, made in March, if Dili agrees to off-shore processing, then the revenue split between Timor-Leste and Australia would be 80:20, respectively. If it's processed onshore, then the split would be 70:30.  This incentive might move talks along, as could the recent election results.
Gusmao's fixation with onshore processing is no doubt heartfelt, but is also partly motivated by nationalist posturing which certainly won him support last month. But now that the AMP now controls a majority of seats in parliament – and East Timorese voters won't be too pleased if they have to head to the polls for a third time – accepting a deal on offshore processing is unlikely to destabilize the government or diminish Gusmao's credibility. In fact, it would bring in more revenue, and more quickly, for the new government.
Equally important when it comes to good governance is the participation of Khunto, the junior party within the AMP coalition. While it isn't expected to be handed a large portfolio in government, it will be afforded some political influence which it is likely to use to help its base: unemployed youths. By one estimate, this is almost 14 percent.
Until Ruak is appointed Prime Minister, he cannot officially name his cabinet. Some names have cropped up among commentators but could change. For example, the new house speaker, considered one of the most important political positions, is expected be Arao Noe, a veteran politician from the CNRT. But it remains to be seen how important positions will be shared. In the past, the leaders of parties outside of government were often given ministerial positions, though this might not be the case this time as the AMP must divide ministries between its three parties, making sure all three are kept happy.
Unless President Guterres does the unexpected and refuses to swear in Ruak as Prime Minister, it will be a celebratory moment for Timor-Leste. It will be the country's first successful double transfer of power, the gold standard of any young democracy. Timor-Leste is rightly regarded as the most democratic nation in Southeast Asia, not a difficult feat considering the state of its neighbours but one worthy of praise. Such commendation recently came when Freedom House upgraded Timor-Leste in its latest Freedom in the World index from "partly free" to "free".