Without State Reform, Myanmar Isn't Going Anywhere Fast
Myanmar's unwieldy, inexperienced civil service weighs down efforts to move the country forward.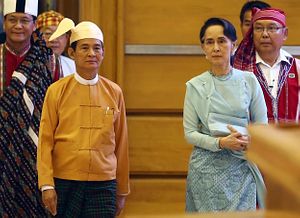 Without a revamp to its archaic state apparatus, Myanmar isn't going anywhere fast.
De-facto ruler Aung San Suu Kyi may have been lambasted for the slow pace of economic reforms, alongside a stalling peace process, but the reality for those losing patience is that anyone in power would have their capacity severely restrained by an inept, corrupt, and bloated bureaucracy underneath. 
After storming to an electoral victory in 2015, Suu Kyi's National League for Democracy (NLD) party inherited the unenviable task of meeting high expectations without an effective government architecture to support it. Indeed, decades of rule by the military, also known as the Tatmadaw, has rendered the Southeast Asian nation's policymaking institutions rigid and ineffective.
Their incredibly hierarchical structure meant minimal delegation to middle management, which in turn has meant that a pipeline of younger bureaucrats with expertise has never never been developed. Now, ministerial-level experience is dangerously concentrated in the hands of a few silver-haired civil servants suffering from age-related health issues. 
Competency is also a major issue. Many higher-level officials have found their way to the top through loyalty under the Tatmadaw, and not through merit. It means that decision-making and leadership skills — coupled with technical know-how — is severely lacking. What's more, after decades of towing the line under the junta, stagnation in the civil service has been entrenched by a dearth of innovative thinking.
Corruption also remains rife. More than one in two civil servants say that their colleagues ask for additional payments to do their work, adding that bribery and nepotism are also problematic. This extends to the very top. Kyaw Win, the NLD's former finance minister and longtime civil servant, resigned in May following an investigation into graft allegations.
Of course, the demise of the public sector under the Tatmadaw followed over a century of mismanagement under colonial rule until independence in 1948. The British dissolved the monarchy, which acted as a highly centralized form of government, and divided it into numerous cantons with the majority of public sector positions filled by Anglo-Burmese and Indian subjects.
Altogether, the result is an unwieldy and low-skilled civil service employing around 1 million people — over double the size of the U.K.'s civil service. And while State Counsellor Suu Kyi has certainly made some questionable choices — perhaps reflecting her reincarnation from human rights advocate to politician — its this broader context that helps to explain the country's lack of progress in the past two years.
Indeed, Suu Kyi has had little expertise around her to facilitate bureaucratic reform. Her cabinet was largely discredited for its lack of experience and credentials — fake degrees at the top level is somewhat of a banality. Ministers have been chopped and changed, and the position of president has also switched hands after former head of state Htin Kyaw stepped down citing ill health. Meanwhile the NLD's senior ranks also lack serious policymaking nous, being largely fronted by former activists and political prisoners.
Instead, Suu Kyi has adopted an authoritarian style of leadership, taking on several roles, including heading up the foreign ministry alongside her state counsellor duties, while often being described as a micro-manager and a disciplinarian in meetings. Whether its a lack of capacity — or willingness — to delegate, it will deepen the civil service's challenges with inexperience.
Meanwhile, whatever reforms and deliberations bureaucrats make, they will also be limited by the Tatmadaw's power; in its oversight of key administrative ministries (particularly the Home, and Border Affairs), control over its funding, and its reserved seats in parliament. But while overhauling the 2008 Constitution, which gives the military so much leeway, is the only meaningful way to achieve "big ticket" changes in Myanmar, it is currently very much an impossible dream — with many commanders unlikely to relinquish powers they profit from.
That said, some long-term improvements in the culture and competency of the nation's civil service can begin today. Firstly, boosting pay and encouraging meritocracy by rewarding and incentivizing performance is key, and it can act in tandem with wider transparency measures to reduce the attractiveness of bribes. Secondly, increasing staff access to flexible learning and training courses with an emphasis on technology and management skills can instill an ethos of continuous learning and help to refresh old policymaking processes.
Ministers also need data analysis tools and expertise to help map out and utilize their nationwide resources more strategically. Meanwhile, the government must also place greater emphasis on recruiting women and ethnic minorities who are underrepresented. This has the dual benefit of improving diversity of thought and also helps to build vested interests in healthy public services across the nation's diverse and often conflicted society.
Much of this is already on the agenda through various initiatives, but it needs international funding and technical support at time when the global community is wavering in its pledges, while the military crackdown on ethnic minorities continues.
Expecting progress on the nation's economic or social front without reform to its civil service is futile. And overturning a legacy of ineptitude at the heart of the country's governance structure will take far longer than the NLD's 5-year term, particularly with constitutional complications. The Myanmar government needs all the help it can get.
Tej Parikh is a global policy analyst and journalist. He graduated from Yale University with a master's degree in international and development economics. His work is archived at The Global Prism. He tweets @tejparikh90