Cheering Cambodia's Strongman
Despite an intense crackdown on dissent, Hun Sen's supporters turned out for a mass rally ahead of Cambodia's elections.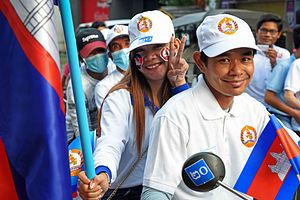 PHNOM PENH – International observers and rights groups may not be convinced that tomorrow's elections in Cambodia are free or fair after the country's main opposition party was forcibly dissolved last year, but that has not stopped strongman Prime Minister Hun Sen from trying to get out the vote.
With the legitimacy of his new government on the line, the ruling Cambodian People's Party (CPP) held a massive rally in Phnom Penh on Friday in a flash of democratic showmanship. Tens of thousands of supporters arrived in the capital, dressed in white shirts and hats, to stand firmly behind a leader who has been in power for more than three decades.
Following a shocking near loss in 2013 to the previously exiled then-opposition leader Sam Rainsy and his Cambodia National Rescue Party (CNRP), Hun Sen began a full-press assault on democratic institutions that had been in place since the early 1990s. Among those now silenced or shuttered include political opponents, independent media, and advocacy groups, including the U.S.-funded National Democratic Institute.
Still, the autocratic ruler on Friday hailed the moves as necessary for the stability of Cambodia lest the country find itself "in a situation of war."
While the crackdown on independent voices has triggered near universal condemnation from observers, Hun Sen's authoritarian tendencies have not detracted the party faithful, who point to Cambodia's meteoric economic growth over Hun Sen's 33-year rule. These supporters were out in full force Friday, chanting their ruler's name through bullhorns on the back of motorbikes and calling on fellow Cambodians to vote CPP.
These are a few pictures of what transpired as Cambodia gets ready to vote in what many believe to be one of its most oppressive elections in years.