China's BRI Bet in the Middle East
Can China's efforts survive scrutiny and politics?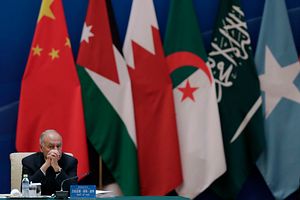 During the China-Arab States Cooperation Forum (CASCF) held on July 10 in Beijing, China announced that it would loan several Arab countries in the Middle East $20 billion, adding aid packages worth over $100 million to the Palestinians, Yemen, Lebanon, Jordan, and Syria.
The announcement, which came from President Xi Jinping in his opening remarks to the Forum, offered few details, but was heralded as financing for "economic reconstruction" in transportation infrastructure, oil and gas, finance, high-tech fields, the digital economy, and artificial intelligence (AI) projects, according to Chinese news sources. The loans and aid are a further plank in China's Belt and Road Initiative (BRI) to link more than 60 countries in Asia, the Middle East, Africa, and Europe into a tightly-woven network of trade, transport, and multifaceted partnerships toward a goal of increased economic and social development for all.
Reactions to the announcement, and to China's BRI in the Middle East as a whole, come from various quarters around the world, and are worth reviewing. BRI is coming under a great deal of scrutiny not just from Western countries, but from countries that are within the BRI framework, or which are targeted by China to be so. Immediate concerns and questions revolve around at least three key areas: debt sustainability among poor countries; a lack of transparency into BRI projects, both from China and its debtor nations; and the viability of the BRI's success in the Middle East as China attempts to maintain equilibrium within the hostile Saudi Arabia-Iran relationship.
The Jordan Times raised the issue of debt sustainability in its July 11 article covering the Chinese loan and aid package. Commenting that China's "financial largesse has raised concerns both at home and abroad over the vulnerability of poor nations to such massive debt," it also notes that "China has already provided vast sums to Arab countries, with Djibouti alone owing some $1.3 billion."
The Amman-based newspaper further points to the most famous example of what some term China's "debt trap" diplomacy: in 2017, "Sri Lanka was forced to hand over majority control of its Hambantota port to China after being unable to repay its loans." It is worth emphasizing that Jordan itself is one of the countries which China has targeted in this latest round of aid packages. Therefore, public commentary in the Jordanian press questioning the aims and appropriate nature of China's development programs for the Middle East is that much more notable.
The Center for Global Development, a Washington think tank, in their March 2018 paper, "Examining the Debt Implications of the Belt and Road Initiative from a Policy Perspective," notes that outside of the China-Pakistan Economic Corridor (CPEC) projects, "China does not report cross-border project lending in a systematic or transparent manner." Debtor nations, it goes on, also tend to be less than forthcoming. Therefore, information on BRI projects must be drawn from a variety of publicly available sources.
Such opaque information flows are entirely in keeping with China's character. But they are not in keeping with international norms of transparency, accountability, and verifiability of sovereign nation financial practices around the world.
This begs the question: if BRI projects are so good for the recipients, as well as for China itself, why isn't China more publicly specific about the details? It is difficult to take credit for or create political capital from a project that few know about.
A further risk associated with Chinese reticence to report publicly the details of its BRI programs is the high risk of misappropriation of funds that are doled out to countries already high on Transparency International's Corruption Index. The vast majority of BRI countries fall below 50 on a scale of 0 to 100 in their citizens' perception of the cleanliness of their nations' public sectors, with the Baltic states, Poland, and the UAE as notable exceptions.
China, open in its fight against official corruption, knows this risk better than most. It may find that the reputational value of BRI and the degree of its public disclosure are in direct proportion to one another.
The greatest risk to China's Middle East BRI aspirations may be the political one, however, argues Ivan Lidarev in his commentary for India's Observer Research Foundation, "China and the Saudi-Iran Conflict." Arguing that China has to date "managed a fine balancing act" between Saudi Arabia and Tehran, Lidarev argues that BRI projects "would be seriously affected by the instability generated by Riyadh and Tehran at hotspots such as Yemen, Iraq, Syria and Qatar." This would embroil China in the politics and instability of the region.
Equally damaging to China's prospects for BRI success in the Middle East, asserts Lidarev, is that the "BRI would align China much more closely with Iran… with serious strategic implications for China. The reason for this is simple — Iran has much more to offer to China than Saudi Arabia."
Lidarev argues that Iran is a "key component of BRI." Both Iran's superior geographic position as a logistical access point along BRI trade routes, as well as its political reliability from a Chinese perspective in light of its hostile relationship with the United States, make Iran indispensable to China's BRI calculations, while Saudi Arabia holds a lesser role.
The United Arab Emirate's Gulf News, in its July 17 report on the China-Arab Forum, underscores Lidarev's assertions. In coverage that is otherwise positive, and that emphasizes the "historical ties" between China and the Arab world, the article closes with a telling statement from the head of the UAE delegation to China, Minister of State Dr Sultan Bin Ahmad Sultan Al Jaber:
"We meet today with regional and global challenges in our midst," he said, adding that the most prominent of which is the spread of terrorism and extremism.

"In this context, Iran's interference in the internal affairs of Arab states and its support of terrorist militias in our brotherly Arab neighbors represents a direct threat to the safety, security and stability of our region and the world," he said.
And that intraregional hostility is what China has to deal with as it goes forward with the BRI in the Middle East.