China's Planned Nuclear Icebreaker
The commissioning of the country's first nuclear-powered icebreaker is poised to bridge a wide range of national ambitions.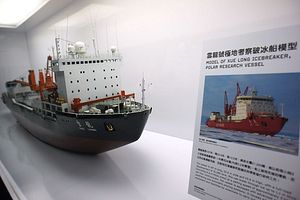 On June 23, a tender was published on the website of state-owned China National Nuclear Corporation (CNNC) for the construction of a nuclear-powered icebreaker. The project, commissioned by China Maritime Nuclear Power Development (CMNPD), a joint venture established last year with China National Nuclear Power (CNNP) as the controlling shareholder, and Jiangnan Shipyards, and Shanghai Electric among its minority shareholders, would see the construction of China's first nuclear-powered surface vessel.
The project description calls for the construction of a "nuclear-powered icebreaker and comprehensive support ship," in other words, a multipurpose icebreaker. Unsurprisingly, we find polar icebreaking capabilities among the listed requirements, along with the capacity to fulfill other related mission types, such as opening waterways, performing break-in operations, search and rescue, and providing energy and logistics support. The vessel will use modular reactor technology developed by CNNC. Linglong 1, the third generation of the company's small modular reactor technology, is currently under development, with waterborne reactors as one of its key areas of application.
To this latter point, an article published by the South China Morning Post stated that the nuclear icebreaker in question was the Xue Long 2, China's second polar icebreaker currently under construction and that the reactor technology was likely to be of Russian design. Both assumptions were quickly dismissed by Chinese media. The Xue Long 2, designed in collaboration with Finnish ship engineering firm Aker Arctic, is using a diesel-electric propulsion system supplied by Aker Arctic's parent company, ABB. While Russia is a world leader in both icebreaker technology and waterborne reactor technology, several Chinese sources stressed the need to develop indigenous solutions.
While the dual-purpose nature of such technology seems clear enough, some Chinese observers have deemed the direct link drawn between China's nuclear-powered icebreaker and future nuclear carriers as mistaken — or, at least overly simplified — and have pointed out the technical realities of developing such vessels.
Arrangements for the construction of a nuclear icebreaker seem to have started in 2016 when CNNC and China State Shipbuilding Corporation (CSSC) signed a cooperation agreement on advancing the country's civilian application of maritime nuclear power. That same year, polar icebreakers — along with a series of other ice-capable maritime technologies — were included in the 2016 iteration of the 'strategic Emerging Industries Catalog." An auxiliary guideline to the catalog, published by China's State Council, called for the development of "next-generation deep sea and polar technologies," with nuclear icebreakers listed as an example. Then, in 2017, the China Maritime Nuclear Power Development joint-venture was established with the purpose of furthering the country's waterborne nuclear technology. Later that year, during China's International Maritime Exhibition, China Shipbuilding Industry Corp (CSIC), the country's other shipbuilding conglomerate, presented the plans for four different nuclear powered maritime platforms, with an icebreaker being one of them. Several months later, a CMNPD delegation visited the Bohai Shipping Group, a subsidiary of CSIC, allegedly to discuss the shipyard's possible involvement in a nuclear icebreaker project. As of now, it remains unknown which shipbuilder has been awarded the tender.
Science and Technology Daily, a widely read Chinese journal, covered the news by writing that a nuclear icebreaker would be an invaluable source of experience for China in operating nuclear-powered vessels. Furthermore, an expert cited in the article stated that the development and application of small reactor technology in civilian vessels, while not being entirely one-to-one, are both necessary steps toward a wider application in both carrier ships and power ships. And finally, the article noted that a nuclear icebreaker will allow for increased research activity in the Arctic, and strengthen China's international voice in polar matters.
China's Growing Icebreaker Fleet
When examining the latter point, it is worth noting that the ownership of the icebreaker remains unclear. The People's Liberation Army Navy (PLAN) currently operates three icebreakers in the Bohai Sea: the two latest vessels being enrolled as recently as 2016. China's only operational civilian icebreaker, the research vessel Xue Long, is owned by the Polar Research Institute of China (PRIC), which operates their own wharf and polar logistics base in Shanghai's Pudong area. The Xue Long 2 is set to follow the same ownership structure as its older sibling. As of now, PRIC bears no connection to the planned nuclear icebreaker and is not involved in the project. Nor are research capabilities listed in the project requirements. The Russian nuclear icebreaker fleet is owned and operated by Rosatomflot, which is part of the Rosatom Group. Rosatom itself is analogous to China's CNNC.
The Antarctic Treaty problematizes the operation of nuclear vessels in the region, and lighter ice conditions do not necessitate the same icebreaking capabilities as needed in Arctic waters. Furthermore, the Arctic, with its emerging shipping lines, natural resources, and mediterranean geography as a semi-enclosed ocean, justifies the need for a larger and more advanced icebreaker fleet if China wishes to increase its scientific and commercial activities in the region. Additionally, a nuclear icebreaker dedicated to the Arctic would free up Xue Long 1 and Xue Long 2 to focus more on Antarctic missions and China's growing number of research stations there.
The deputy director of PRIC, Li Yuansheng, told the China Science Daily in a recent interview that "as of now, advancing China's research capabilities in the Antarctic is the most urgent of the two poles." This priority is not a new one, seeing as China will soon operate a total of five research stations on the continent. Compare this to the one station serviced in the Arctic. That being said, some of China's Antarctic research stations can be resupplied by air. That is the case for the Great Wall Station, while others, such as the Zhongshan Station, require resupply by sea. China also employs other non-polar vessels, for example, the research vessel Haiyang 6, to conduct oceanographic research in the Antarctic.
The Arctic's melting ice cover is uncovering new opportunities for resource extraction, as well as new shipping routes. The Northern Sea Route (NSR), connecting China with Europe through the Russian Arctic, is gradually becoming more feasible. Increased commercial activity in the area is putting a strain on Russia's own nuclear icebreaker fleet as it struggles to meet demands for icebreaker escorts. Adding to this, a Chinese report published earlier this year judged the Russian icebreaker fleet to be in decline, with aging vessels and insufficient funding. It is possible, then, that future Chinese nuclear icebreakers, or subsequent floating reactors, will find an opening in the development of the NSR. As of now, Russian icebreaker escort fees are a serious detriment to the commercial feasibility of the route.
The "Made in China" Imperative
While some commentators erroneously dub the Xue Long 2 as China's first domestically constructed icebreaker, it is true that it will become China's first domestically constructed polar icebreaker. The operation of indigenously designed and manufactured polar-capable vessels will award China greater mobility and autonomy in their polar activities by expanding their own polar fleet and their domestic pool of experience. Launching a state of the art polar research vessel also legitimizes China's activities in the polar regions further, as well as providing valuable leverage for China as it engages in science and commercial activities with other countries.
The introduction of a nuclear icebreaker would serve as a powerful force multiplier to these effects. A tertiary benefit might be both the international and domestic prestige that China stands to win with such a project: nuclear propulsion technology makes a powerful sign of technological prowess and institutional strength, reserved for a select few nations who possess the right institutional, human, and political resources. China would be the second country after Russia to operate such a vessel. And as China attempts to position itself as a truly global power, mastering advanced technologies and developing its maritime sector are paramount. Besides its purely strategic value, the project should also be understood within this techno-nationalist imperative.
In conclusion, a new and nuclear addition to China's burgeoning icebreaker fleet lies seemingly at the intersection of a wide range of national ambitions — on its own, the icebreaker will undoubtedly accelerate China's polar activities, especially in the Arctic; furthermore, domestic production of nuclear vessels would prove a major milestone for the country's maritime sector and deep sea technology; and, in that vein, the expansion of China's nuclear military fleet. In other words, whether it is to be a "polar great power", a "maritime great power", or a 'science and technology great power", China's planned nuclear icebreaker is ticking all the boxes.
Trym Aleksander Eiterjord is a graduate student at the University of Oslo, Norway.