HNA Group Chairman's Sudden Death Stokes Conspiracy Theories
Wang Jian reportedly died in an accident during a business trip in France.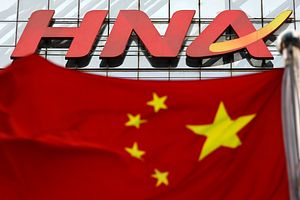 On July 4, HNA Group, one of China's biggest conglomerates, announced that Wang Jian, the co-founder and chairman of the company, died in an accident during a business trip in France.
According to the simple obituary in Chinese posted on the company's website, Wang, 57, suffered a fall during the trip and received medical treatment but failed to recover.
The obituary in English included a statement of HNA Group's board and management team, led by co-founder and Chairman Chen Feng and CEO Adam Tan. It said: "Together, we mourn the loss of an exceptionally gifted leader and role model, whose vision and values will continue to be a beacon for all who had the good fortune to know him, as well as for the many others whose lives he touched through his work and philanthropy."
The company's website was made black and white to mourn Wang.
A police source in France told Reuters that Wang "tried to climb a low wall to see the view and take pictures" in the village of Bonnieux, near Avignon. "After failing a first time, Wang took a run up. 'He fell over the top and dropped 10 meters.'"
Another police source told The New York Times that Wang's death was being investigated but that the police had no immediate suspicions of foul play.
Wang's sudden death immediately kindled conspiracy theories, as HNA has been haunted by negative gossip for quite a while.
HNA Group, headquartered in Haikou, Hainan, was founded in 2000. Growing into a multinational giant within two decades, the conglomerate now owns assets in numerous industries including aviation, real estate, financial services, tourism, and logistics.
However, the company's ownership structure has always been complex and murky.
Last year, Guo Wengui, a high-profile exiled Chinese businessman who is famous for throwing  incendiary — and largely unsubstantiated — allegations against Chinese officials, claimed that HNA has secret and illegal financial ties to top Chinese Communist Party officials.
According to Bloomberg, Wang Jian said in an internal speech in February that HNA has been a victim of a conspiracy against the Chinese government and "the Communist Party Central Committee with Xi Jinping at its core."
Perhaps in an attempt to counter Guo's allegations, HNA then released some details about the company's ownership structure. Most notably, the company announced that its largest shareholder, a mysterious businessman named Guan Jun, had donated his 30 percent stake in the company to a charitable organization.
Despite — or perhaps because of — this unusual move, Guo's sensational allegations had deeply damaged HNA's reputation.
Furthermore, Guo had even predicted more than one year ago that HNA's top management team members would die in an accident due to their secret ties with Chinese officials, according to a former employee of Voice of America.
Wang's sudden death just adds more fuel to these conspiracy theories, even though there is no substantial reason to suspect foul play.
Even those longtime observers of China have been split into two groups. For example, Bill Bishop, who writes the influential China newsletter Sinocism, tweeted that "this accident is totally believable." But Scott Kennedy, of the Center for Strategic and International Studies in Washington, commented on Bishop's tweet as saying: "Anything, including what has been reported, is possible. Chinese tourists take risks, and conspiracies abound in China."