Japan, EU Display Solidarity in the Face of US Friction
Their new FTA is "of enormous strategic importance for the rules-based international order," says the European Council president.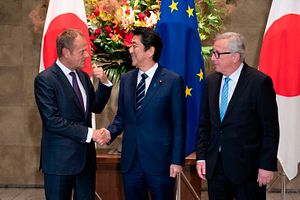 The signing of the European Union's biggest ever bilateral trade deal shines as "a light in the increasing darkness of international politics" at a time when some are questioning the rules-based international order, according to European Council President Donald Tusk.
Tusk and European Commission President Jean-Claude Juncker raised concerns over the rise of protectionism when they traveled to Tokyo to meet with Japanese Prime Minister Shinzo Abe and sign a long-awaited Economic Partnership Agreement (EPA) with Japan on July 17. The EPA, which has been under negotiation since 2013, is set to create a free trade zone that covers 600 million people and nearly a third of global GDP. Negotiations concluded last year but with the formal signing paves the way for the deal to come into force early next year.
For Abe, it represents another visible win on a trade pact, coming soon after Japanese leadership helped revive the Trans-Pacific Partnership (TPP) following U.S. President Donald Trump's decision to pull the United States out of the Pacific rim-focused trade agreement. Japan recently formally announced it had completed domestic procedures for the so-called TPP-11 (officially known as the Comprehensive and Progressive Agreement for Trans-Pacific Partnership) and hopes other signatories will follow suit soon.
Abe has had to recalibrate his approach in light of Trump's trade policies: the possibility of the United States introducing new tariffs on auto imports is a serious concern to Japan. Tokyo had previously lobbied – unsuccessfully – for exemptions to the steel and aluminum duties announced earlier by the Trump administration. Trump has repeatedly complained about Japan's trade surplus with the United States and called for talks on a bilateral trade agreement between the two countries.
It's no surprise, therefore, that Abe was in a triumphant mood when he fronted the media alongside Tusk and Juncker. Abe argued that the EPA and a strategic partnership agreement that was signed at the same time were "historical agreements that will elevate Japan-EU relations to a new dimension." He added: "With these agreements as guideposts, as partners that share universal values such as freedom, democracy, human rights, and the rule of law, we shall hoist the banner of free trade high above the sky."
Tusk and Juncker, meanwhile, implicitly criticized Trump's disruptive approach to world trade. "This is an act of enormous strategic importance for the rules-based international order at a time when some are questioning this order," Tusk told reporters. He said the deal aimed to send "a clear message that we stand together against protectionism." Tusk further argued that the deal was a sign that "you can count on us" and that both Japan and the EU were "predictable, responsible" defenders of a rules-based world order.
Juncker added: "As far as we are concerned, there is no protection in protectionism, and there is no unity where there is unilateralism." Backing the necessity of reforms to the World Trade Organization, Juncker said pointedly: "We want to rewrite the rulebook together, not to destroy it alone. The trade we believe in is built on trust, clear rules, reliable partners."
In their joint written statement after the Japan-EU summit, Abe, Tusk and Juncker agreed that further work was needed to protect intellectual property rights and market-distorting industrial subsidies – some of the key issues that the United States has cited in its spiraling trade dispute with China. But there were several notable points of difference with Washington, with the leaders reaffirming support for the Iran nuclear deal and the Paris climate change agreement.
The EU has taken a confident leadership position by signing this EPA with Japan, said Dr. Aukje van Loon, a research associate at the Chair of International Politics, Ruhr University Bochum in Germany.
"The times of 'competitive interdependence,' where the EU was trying to catch up with the United States in the race for markets in Asia are well and truly over," she told The Diplomat in an email. "Having pulled out of the TTP and pausing the TTIP [Transatlantic Trade and Investment Partnership] negotiations, the United States is now isolated as President Trump follows a protectionist direction resulting in American businesses losing ground in Asian and European markets. This nationalistic stance has pushed the EU and Japan closer together."
The deal has economic value but also carries strategic importance, van Loon explained. "The EU seeks to obstruct China, as an emerging powerhouse, with a series of free trade agreements in its geographic vicinity."
It remains to be seen whether this EPA might face obstacles like the EU's trade deal with Canada, which has been challenged by the recently formed, anti-establishment Italian government. In the current trade environment, van Loon said, domestic politics within European member states had become increasingly important. "The domestic level, where trade policy making actually begins and where EU member governments have to find negotiation positions reflecting preferences originating from domestic societal influences, is becoming increasingly relevant in contemporary EU trade policy making. This variation in trade preferences should be taken more seriously."
European officials say the deal will scrap Japanese duties on many cheeses such as Gouda and Cheddar (currently 29.8 percent) and on wine exports (currently an average of 15 percent) and open up markets in services, especially financial services, e-commerce, telecommunications and transport. According to a press briefing by Japan's Ministry of Foreign Affairs, the EU will eliminate about 99 percent of customs duties while Japan will eliminate 94 percent of its duties. Japan's agriculture, forestry, and fishery sector has received some special attention, with Tokyo managing to exclude rice from the tariff cuts.
Japan and the EU have not yet reached agreement on the process for handling investment protection disputes. The EU favors a new Investment Court System in which judges are appointed by the two parties to the free trade agreement and with public oversight. The EU has made it clear that, in its view, the "old" Investor-State Dispute Settlement (ISDS) tribunal arrangements that have been heavily criticized by civil sector groups are "not acceptable" and "dead."
The setting aside of this area for further negotiations reflects one of the advantages of concluding bilateral free trade agreements where "the WTO single undertaking 'nothing is agreed until everything is agreed' does not hold," concluded van Loon.