Only 4 Days in, China-US Trade War Escalates
The Trump administration announces additional tariffs on Chinese products and China vows to retaliate "as always."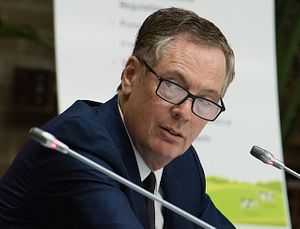 The "biggest trade war ever in economic history" between China and the United States officially started on July 6. Within four days, the trade war had escalated: a second round of tariffs is already on the horizon.
On July 10, U.S. Trade Representative Robert Lighthizer announced in a statement that U.S. President Donald Trump has "ordered USTR to begin the process of imposing tariffs of 10 percent on an additional $200 billion of Chinese imports." The move came just four days after the two countries imposed tit-for-tat tariffs of $34 billion on each other's products.
Trump had threatened earlier that he would impose additional tariffs if Beijing retaliated with countermeasures.
In his statement, Lighthizer claimed that the United States has specially targeted those Chinese products that "benefit from China's industrial policy and forced technology transfer practices," and China's retaliation —  from Washington's perspective — was "without any international legal basis or justification." China, on the other hand, maintained that the country was "forced to strike back to safeguard core national interests and the interests of its people."
"For over a year, the Trump Administration has patiently urged China to stop its unfair practices, open its market, and engage in true market competition.  We have been very clear and detailed regarding the specific changes China should undertake," Lighthizer added. "Unfortunately, China has not changed its behavior – behavior that puts the future of the U.S. economy at risk. Rather than address our legitimate concerns, China has begun to retaliate against U.S. products."
According to its detailed notice on the process to come, USTR aims to conduct hearings in late August, which means that the earliest possible implementation date for the additional $200 billion in tariffs can be in September.
However, Lighthizer still left some room for potential negotiations with China before the new round of tariffs. He said: "As in the past, the United States is willing to engage in efforts that could lead to a resolution of our concerns about China's unfair trade practices and to China opening its market to U.S. goods and services."
Faced with USTR's latest announcement, China was "shocked."
Hours after the announcement was released, China's Ministry of Commerce issued its own statement, expressing a "solemn protest" against the United States.
"The United States has unveiled the list of tariffs in an escalating manner. This is totally unacceptable," the statement said. "By doing this, the United States is hurting China, hurting the whole world, and hurting itself. The irrational act goes against the will of the people."
The statement continued:
China is shocked by what the United States did… the Chinese government will, as always, be forced to take necessary countermeasures. In the meantime, we appeal to the international community to jointly defend free trade rules and the multilateral trade regime and fight trade bullying. We will immediately lodge an additional complaint with the WTO over the unilateral acts of the United States.