Promoting Singapore-Malaysia Maritime Cooperation in the Eastern Strait
A look at one area where both countries can further enhance their collaboration.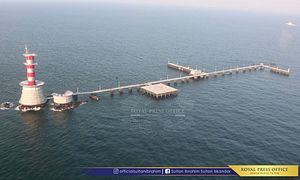 Late last month, in response to Malaysian Defense Minister's Mohamad Sabu's suggestion to strengthen security cooperation in the eastern Singapore Strait near Pedra Branca and Middle Rocks, Singapore's Defense Minister Ng Eng Hen remarked that "even joint patrols with our agencies and their agencies, I completely agree with that."
This exchange seems encouraging during a time of what some might construe as turbulence in bilateral ties, particularly in the context of Malaysian Prime Minister Mahathir Mohamad's remark about reviewing the price of water Kuala Lumpur sells to Singapore.
The idea itself is not new. Back in January 2003, then Malaysian Foreign Minister Syed Hamid Albar proposed having joint patrols with Singapore off Pedra Branca. That suggestion came just a few weeks before relations between Malaysia and Singapore also took a hit after a Singaporean warship reportedly chased after a Malaysian police boat carrying local journalists on board, about 7.4 kilometers off Pedra Branca.
It is worth noting that back then, while there was a period of acrimonious exchange and media headlines were then splashed with this rhetorical exchange over Pedra Branca and a host of other contentious bilateral issues including water supply, cooperation between the two countries' navies appeared unaffected. As an example, Exercise Malapura, a flagship annual joint training event between the Republic of Singapore Navy and the Royal Malaysian Navy, carried on as per normal that very year.
The ability of Malaysia and Singapore to sustain elements of their military ties, particularly in the maritime realm, even during periods of political turbulent ought not to be underestimated. As an example, in the aftermath of downturn in relations between Malaysia and Singapore in mid-1990, RSN warships had taken part in the RMN-hosted International Royal Fleet Review in Penang.
Examples abound in this respect. For instance, Malaysia and Singapore have been able to work closely together within the rubric of the Malacca Straits Patrols, inaugurated in 2006, with Indonesia and Thailand. Another example is Exercise Malapura, which has become more complex over time since its exception in 1984 – moving from shipboard tactical procedures of individual vessels to broader operational matters involving planning at group level. While Malapura did become a casualty of the Asian Financial Crisis in 1997, over the past decade or so, Malapura has stabilized without disruption, routinely involving six vessels from both navies.
Both sides have also examined ways to further build on their interoperability. For instance, in March 2011, then Malaysian Defense Minister Ahmad Zahid Hamidi suggested that the two navies jointly contribute to shipping security in the Gulf of Aden.
As both sides consider areas to broaden collaboration, perhaps before going "out of area" they might also consider the eastern Strait of Singapore around Pedra Branca and Middle Rocks, where each country maintains an outpost and have even been periodically reinforcing their positions.
In recent years, the threat to shipping in the eastern waterways from a variety of causes – accidents and potentially maritime terrorism including sabotage – has become amplified. Furthermore, a string of incidents have strengthened the case for cooperation. Between Malaysia and Singapore for example, last December, when two Malaysian anglers went missing after their boat sank, Singapore coordinated a search-and-rescue operation alongside Malaysia and Indonesia.
Other outside actors have also been involved in some of these incidents. For instance, there was the collision in last August between the American destroyer USS John S. McCain and oil tanker Alnic MC about 8.5 kilometers north-northeast of Pedra Branca that led to a similar focus on the area.
Pushing for closer maritime security cooperation around Pedra Branca and Middle Rocks would be mutually beneficial for both Malaysia and Singapore in view of the potential security challenges encountered in those waterways.
For example, joint patrols to respond to abrupt contingencies in the area would allow both countries not only to enhance interoperability and build confidence, but also practically free up resources and allocate them to other locations, with Kuala Lumpur for instance allotting more maritime security assets to eastern Sabah and the Sulu Sea. Such patrols could also involve civilian maritime agencies on both sides as well, particularly given ongoing cooperation between the Malaysian Marine Operations Force and Singapore Police Coast Guard.
Both sides could also bring together their maritime forces – both military and civilian – and collaborate on collaborative projects, such as commencing a joint feasibility study on a slate of maritime security operations that both sides can accept to undertake on a regular basis in waters around Pedra Branca and Middle Rocks.
There are a range of other small steps that can be considered as well, including focusing on search-and-rescue and joint action against transnational crimes and counter-terrorism in those waterways. As an example, Exercise Malapura, which has traditionally been conducted in the Malacca Strait, could extend to waters near Pedra Branca and Middle Rocks, and expand into a multi-agency activity involving the two countries' civilian maritime law enforcement bodies.
The road ahead may not be an easy one. But if they have the will to do so, both countries can certainly take advantage of the longstanding relationship between their maritime forces and the extent of interoperability that has been cultivated over the years.
Collin Koh is research fellow at the Maritime Security Programme, S. Rajaratnam School of International Studies based at Nanyang Technological University, Singapore.