South Korea-Vietnam Navy Ties in the Spotlight
A recent visit points to the greater focus being placed on the defense side of the relationship.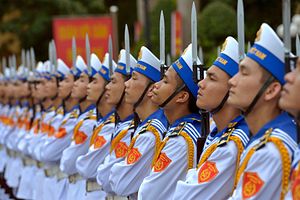 This week, South Korea's chief of naval operations paid a visit to Vietnam as part of a wider Asia trip. The trip once again spotlighted the growing security collaboration underway between Hanoi and Seoul as part of their wider strategic partnership, with consequences not just for bilateral ties but for the wider region as well.
As I have noted before in these pages, Vietnam and South Korea have had security collaboration that has been generally factored into their broader relationship, which was elevated to the level of a strategic partnership back in 2009. But with South Korean President Moon Jae-in's entry into office last year, Seoul's defense ties with Hanoi have come into relatively greater focus as part of the wider emphasis on Southeast Asia under the New Southern Policy.
In April, Vietnam's Defense Minister Ngo Xuan Lich was in South Korea, which saw both sides conclude a joint vision statement for defense cooperation out to 2030, amid other developments in the defense realm of ties thus far. And, in June, following his attendance at the Shangri-La Dialogue in Singapore, South Korean Defense Minister Song Young-moo paid a visit to Vietnam where both sides reviewed their defense ties and also inked a new agreement between their defense ministries (See: "Trump's Indo-Pacific Strategy Challenge in the Spotlight at 2018 Shangri-La Dialogue").
This week, bilateral defense ties were in the spotlight again as South Korea's Chief of Naval Operations Admiral Hyun-seong Um was on a working visit to Vietnam. Um's visit was part of a broader Asian voyage that he had undertaken that also included Indonesia and Turkey as a component of ongoing defense engagements with significant regional states.
During his visit to Vietnam, Um met with several defense officials including Deputy Defense Minister Phan Van Giang. The meeting saw both sides take stock of the state of their bilateral defense ties more generally as well as discuss opportunities for future collaboration in the naval domain.
Predictably, few specifics were publicly unveiled by both sides as to what was discussed. Vietnamese state media accounts noted in general terms that Giang had emphasized the importance of naval cooperation for wider bilateral ties and that Um had appreciated the opportunity to learn more about Vietnam and its military.
Despite the lack of details, the engagement, which comes on the heels of other higher level defense engagements, nonetheless is yet another indicator of the growing security cooperation underway between the two countries of late. Assuming South Korea under Moon continues to deepen its ties with Southeast Asian state such as Vietnam, and that Hanoi, for its part, looks to further strengthen its relations with a range of major and middle powers as part of its wider foreign policy approach, one can expect to see more developments on this front in the months that follow.