What Does Moon's 'New Southern Policy' Mean for ASEAN-South Korea Ties?
While the new policy offers opportunities, it also faces lingering challenges that need to be addressed as well.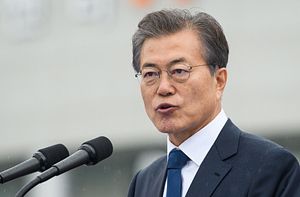 On July 11, South Korean President Moon Jae-in will pay a visit to Singapore as part of a wider Asia-Pacific trip this week that also included a stop in India. The Singapore leg of the trip will once again place the spotlight on what the Moon administration's 'New Southern Policy' means for South Korea's development of its relations with Southeast Asia and ASEAN.
South Korea's interest in Southeast Asia and ASEAN is far from new. Even before Moon came to office, South Korea was already Southeast Asia's second largest trade and investment partner, and his predecessors had also sought better ties with the region, recognizing its importance in terms of managing challenges such as North Korea and advancing opportunities such as Seoul's building out of its middle power diplomatic efforts.
But Moon had pledged to increase South Korea's focus on Southeast Asia and ASEAN still further, no doubt recognizing that relative to even other Northeast Asian states like China and Japan, Seoul had not invested nearly enough in the subregion. And the early moves by the Moon government – from the deployment of a special envoy to ASEAN to the launch of the ASEAN Culture House in Busan to Seoul's articulation of priority security areas for bolstering collaboration – had suggested that it was serious about translating that rhetoric into reality.
Moon's Singapore visit later this week will give him an opportunity to further advance that agenda. Singapore has long been among the key countries South Korea has looked to engage as part of its wider approach to Southeast Asia, and the two governments have recently been stepping up cooperation in some areas, including in economics and business in areas like fintech and e-commerce. The Moon government also no doubt recognizes Singapore's regional importance this year, with the city-state holding the annually rotating ASEAN chairmanship and hosting the recent Trump-Kim summit as well last month following the holding of the Shangri-La Dialogue, Asia's premier security summit (See: "Where are ASEAN's Defense Initiatives Under Singapore's ASEAN Chairmanship?").
With respect to the visit itself, according to the Blue House, Moon, who will be accompanied by a large business delegation, will meet with several Singapore officials including Prime Minister Lee Hsien Loong, with the trip touching on the bilateral relationship between South Korea and Singapore as well as wider regional issues such as North Korea issue as well as South Korea's ties with ASEAN. Moon will also deliver an address to the Institute of Southeast Asian Studies (ISEAS) as part of his engagements there where he will touch on the New Southern Policy.
To be sure, the trip is just one development tied to the development of the New Southern Policy and the Moon government's emphasis on Southeast Asia and ASEAN. South Korean officials have said that more is expected to be unveiled in due course in the rest of 2018 and in 2019, including on the security side with individual Southeast Asian states following some earlier proposals that have been floated as well (See: "How Will South Korea's New Maritime Security Forum Fare?").
There are also no shortage of challenges to the strategy's implementation that will need to be addressed in the coming months, including bandwidth issues as the Moon government continues to be preoccupied by the North Korean challenge, as well as following through on resourcing initial efforts that have been announced and follow-up measures as well.
In that context, the Singapore trip presents a valuable opportunity for Moon to reinforce that the New Southern Policy continues to have momentum at the highest levels of the South Korean government in spite of these uncertainties and challenges.