What Nawaz Sharif's Return to Pakistan Means for the Country's Politics
If Sharif wants to have any role in Pakistan's politics, he has no option but to return to Pakistan.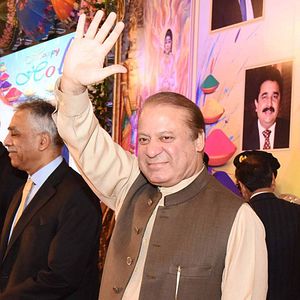 The return of Nawaz Sharif to Pakistan this Friday is going to determine the Pakistan Muslim League-Nawaz's election momentum as the party tries to push back against its systematic isolation from national politics. Sharif was sentenced to ten years in prison by the National Accountability Bureau (NAB) a week ago over corruption charges.
Sharif, who was ousted by the country's courts in a corruption case, maintains that his political party is being victimized due to their attempts to question the role of various non-elected institutions in domestic politics and in foreign and security policy.
On the other hand, the country's judiciary, as well as other major state institutions, not only deny Sharif's claims but also assert that PML-N's leadership has failed to curb corruption in its party's ranks, which became the reason for his recent ouster from the prime minister's office. Sharif's open criticism of the establishment and his defiant posturing aimed at establishing civilian supremacy in the country are likely to lead to a wider confrontation among various state institutions, including the military.
The return of Sharif to Pakistan puts the country's upcoming general election into a state of uncertainty. Sharif's criticism of the judiciary and the military means that he understands that his political party is not going to have a fair chance when it comes to going into the polls without any covert or overt intervention from different organs of the state.
Moreover, for Sharif, the ongoing efforts to isolate his political party are not just focused on pushing the former out of Pakistan's political system, but are also aimed at weakening and dismantling his political organization. A few days ago, Sharif, in a press conference in London said that some state institutions are approaching his party's candidates to force them into leaving the PML-N and are threatening them with dire consequences if they didn't give up their support for him.
Politically, for Sharif, the upcoming election is a do or die situation in terms of the future of his party. Still, if he decides against returning to Pakistan, that would mean his party, which is already in shambles, is likely to disintegrate soon. On the other hand, while Sharif's return to Pakistan may unite the party's workforce, the decision is not devoid of risks that may see the party being further isolated in the coming weeks.
One can also argue that his return may also give the judiciary and the military no option, but to take necessary actions to prevent the military from ever returning to power at the provincial level. If one is to assume that there is a consolidated effort to keep Sharif and his party out of power, then it only makes sense that the party doesn't return to office, particularly with Sharif in Pakistan.
In the context of the present political circumstances in Pakistan, if Sharif is somehow able to win the next general election, the forces opposing his return should prepare for a leader who will be more assertive, independent, and defiant with his policy actions in the government. There are already reports that the caretaker government is beginning a crackdown against the workers of the PML-N ahead of Sharif's return on Friday.
If Sharif's return creates political instability in the country with the party's workers taking to the streets and violence breaking out, the possibility of the next general election getting delayed appears to be a likely scenario.
Moreover, Sharif's return is aimed at raising the bar of confrontation, where he is not ready or willing to take a step back and just accept his political fate, which is being decided by various non-elected institutions in the country. It follows that by coming back to Pakistan, Sharif only confirms that he has no intentions to make any compromises or sign agreements with any institution in Pakistan to safeguard his long-term political future.
Only time will tell if he is actually ready to question and challenge the role of various non-elected institutions in Pakistan's politics.