What's Next for China-Myanmar Security Relations?
A closer look at areas that both sides have been looking at within this aspect of ties.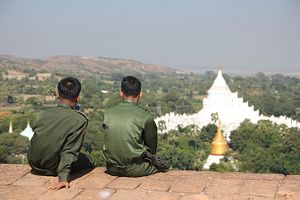 Last week, China and Myanmar convened the latest iteration of a bilateral security meeting. Though this was just one of a series of growing interactions that has been underway between the two countries over the past few years, it once again put the focus on Beijing's role in the Southeast Asian state and the opportunities and challenges for both sides on the security aspect of their relations.
As I have noted before in these pages, China and Myanmar already have some existing security cooperation within their broader relationship. Some of that is tied to longstanding issues under the banner of law enforcement and security cooperation, including managing the 2,200-kilometer China-Myanmar border, which hosts the border trade important to southwestern Yunnan province and Chinese nationals in Myanmar, it is also frequently plagued by drugs, disease, and conflict which is partly tied to issues Naypyidaw is dealing with in making peace with ethnic groups.
Opportunities and challenges in security cooperation continue to be discussed by both sides in broader meetings that they hold as well as more specific dialogues. For instance, both sides had begun holding a ministerial meeting on law enforcement and security cooperation to discuss that basket of issues, with the fifth iteration held back in September 2016.
These issues continue to be part of that discussion into 2018. For example, when Chinese State Councilor and Minister for Public Security Zhao Kezhi visited China back in May, where he met with top Myanmar officials including President U Win Myint and State Counselor Aung San Suu Kyi, both sides discussed security issues including cracking down on drugs, human trafficking, and telecom fraud.
Last week, the security aspect of China-Myanmar relations was in the headlines again with the holding of the sixth iteration of the China-Myanmar ministerial meeting in law enforcement and security cooperation in Beijing.
During the July 3 meeting, which was co-chaired by Chinese State Councilor and Minister of Public Security Zhao Kezhi and Myanmar's Minister of Home Affairs Kyaw Swe, both sides took stock of their ongoing cooperation and also explored areas where they could further strengthen collaboration.
Predictably, few specifics were publicly disclosed regarding the meeting beyond some general platitudes about areas of cooperation and the significance of this aspect of the relationship. But Chinese state media noted that Zhao not only mentioned upgrading collaboration in law enforcement and security, but also strengthening security cooperation within China's Belt and Road Initiative (BRI).