Who Will Be Jokowi's New Vice President in Indonesia's 2019 Elections?
A closer look at some of the candidates who could fill the role.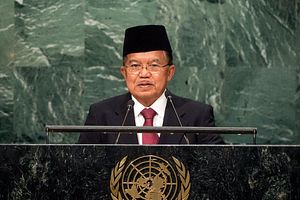 With less than a month left before formal nominations in Indonesia's 2019 presidential election close, all eyes are on President Joko Widodo's vice presidential pick. Widodo is polling widely ahead of likely challengers, including a possible repeat of 2014 with former rival Prabowo Subianto, making the vice presidential ticket an attractive choice for those looking to strengthen their position for a 2024 run further out. Given this, it is worth understanding who the top contenders are for vice president moving forward.
Current vice president, Jusuf Kalla, has told supporters he doesn't want another run at vice presidency and, regardless, he's not allowed. The Constitutional Court has rejected a challenge to the two-term limits on vice presidencies which had been launched quietly by Kalla supporters, saying those behind the challenge did not have the legal standing. Kalla has played this close to his chest, denying links to the challenge.
Still, his movements over recent weeks show he's happily shifting into a kingmaker role. Kalla has met consistently with former President Susilo Bambang Yudhoyono, to whom he was vice president from 2004 to 2009. Yudhoyono floating his son and failed Jakarta gubernatorial candidate Agus Harimurti Yudhoyono as a possible vice president contender to either Widodo or Subianto is a poorly kept secret.
Rainchecked meetings this week between Subianto and the senior Yudhoyono suggests the Widodo's team has all but written off the younger's chances. Yudhoyono is looking solidify his Democratic Party as a political force, rather than one built around the former president's name.
This is an interesting space for Kalla to occupy. He and Widodo have worked very closely throughout the first term and are widely seen as being a formidable duo. As an elder statesman of Golkar, it's unlikely he would shift markedly from the party's official position in supporting Widodo into 2019.
Tempo this week reported that Indonesian Democratic Party of Struggle (PDI-P) party leaders are looking to launch another challenge at the Constitutional Court arguing that as Kalla's two terms were not held consecutively, he is free to run again. Legal experts have suggested that only the two lawmakers who have served two terms could successfully challenge the unclear law – Kalla and Yudhoyono. Kalla told Tempo he would not be personally involved in a judicial review, but the possibility of a third run remains.
Other names are also in the mix beyond Kalla. Muhammad Romahurmuziy, chairman of pro-Widodo United Development Party (PPP), seemingly spilled the beans over the weekend at an event in Malang, East Java. He said Widodo's list of 10 possible candidates represented the key sectors which need to be secured to win – established political figures, business leaders, high-profile Muslim leaders and military or police-linked names. It's important to qualify that this list is what Romahurmuziy has said, and this has not been confirmed by the Presidential Palace, but these names have featured extensively in commentary and polling.
Romahurmuziy said Finance Minister Sri Mulyani Indrawati and Maritime and Fisheries Minister Susi Pudjiastuti are on the final list. Indrawati is not a shock name – her return to the cabinet in 2016 after serving under previous president Susilo Bambang Yudhoyono was very well received by both the business community and the wider electorate. At the time it was suggested she would make a fitting vice president but would not bring factional power to the post.
Pudjiastuti, meanwhile, has become one of the most popular ministers. Beyond an ability to go viral regularly on issues like blowing up illegal fishing vessels, she's well positioned within one of Widodo's highly prioritized portfolios and has a background in business. This week she officially graduated high school after being expelled in her youth, prompting rumors she is gearing up for her own run. But, like Indrawati, her own strong brand does not carry factional support.
Romahurmuziy's list includes three lawmakers – none of whom are too surprising. In addition to himself, Golkar Chair and Industries Minister Airlangga Hartarto and National Awakening Party Chair (PKB) Muhaimin Iskandar feature. Hartarto has been touted as a possible candidate since taking over as party leader following the fall of disgraced leader Setya Novanto. Hartarto would be a good choice in some senses, with Golkar still carrying sway but needing to reassert itself as a bona fide force in Indonesian domestic politics after consistently losing seats and supporting the losing ticket over since 2004.
Iskandar has played less mum than other names on Romahurmuziy's list, formally announcing his intention to nominate himself as VP for the Widodo ticket in March. He is a familiar face in Senayan where he has represented East Java as well as served as Minister of Manpower and Transmigration under Yudhoyono's administration. He has been very blatant in talking up his major drawcard as head of PKB, seen as the political arm of hugely influential Nahdlatul Ulama (NU). He is one of few candidates Widodo has publicly acknowledged as being 'on the list'. His name has also been connected to the Subianto camp, but his comments suggest that should not at this stage be seriously entertained.
The appearance of two Muslim leaders on the list suggest the Widodo team may be looking to go directly to the source. Ma'ruf Amin, leader of NU and head of the powerful Indonesian Ulema Council, and Din Syamsudin, who has served with the country's second largest Muslim group  Majelis Ulama Indonesia, are both on the list. While both men carry a lot of weight and potentially millions of votes, it's likely a strong endorsement and plenty of facetime on the trail will suffice.
Mahfud MD makes an appearance on the list. He comes with platinum credentials after serving as a chief justice on the Constitutional Court, as a lawmaker in the House with National Awakening Party and as both Minister for Defense and as Minister for Justice and Human Rights under Abdurrahman Wahid. He speaks out often in support of human rights even when controversial, such as on atheism and 1965 survivors. His eventual selection as vice president is unlikely, but could indicate a shift in issues Widodo hopes to prioritize in his second term.
Billionaire businessman Chairul Tanjung is an interesting addition to the top 10. He also briefly served as Coordinating Minister for Economics under Yudhoyono in 2014 when predecessor Hatta Rajasa ran as vice president on the Subianto ticket. While Tanjung has received support for a run, it's unlikely to come to fruition. Those close to the businessman have said he is keen to focus instead on his empire.
Retired military commander turned Widodo chief of staff Moeldoko is on the list. This one is a no-brainer for Widodo. Moeldoko brings with him TNI support and is an antidote to likely challenger Subianto's "strongman" brand. The president clearly trusts him, and he would address the view the administration is weaker on security than other potential options.
But, no matter who Widodo selects, beating Subianto on this is area is close to impossible. Instead, it would seem more reasonable that the vice president ticket should be played to aspects on which the administration is weak but at least might have some space to improve, specifically on religious issues given the sort of traction they have been receiving over the past few years.