Are Afghanistan-Iran Relations on the Mend?
Rouhani's outreach to Ghani at the SCO summit this summer may herald an improvement in bilateral ties.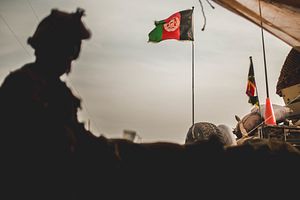 On August 7, the head of Iran's Civil Aviation Organization, Ali Abedzadeh, announced that Iran intended to triple the number of civilian flights from Iran to Afghanistan over a several-year timespan. Abedzadeh's announcement was an initial step toward fulfilling Iranian President Hassan Rouhani's pledge to increase trade with Afghanistan after his meeting with Afghan President Ashraf Ghani at the June 9-10 Shanghai Cooperation Organization (SCO) summit in Qingdao, China.
Although Iran's increased support for Taliban militias in western Afghanistan and ongoing dispute with Kabul over the Helmand River's water supplies have strained Iran-Afghanistan relations in recent months, Rouhani's outreach to Ghani at the SCO summit could herald an improvement in bilateral ties for three reasons. First, the importance of economic interdependence between Iran and Afghanistan has increased due to deteriorating economic conditions in both countries. Over the past year, the value of Iran's rial has declined by more than 80 percent, and the Iranian economy is expected to weaken further once additional U.S. sanctions take effect in November. Afghanistan's economic growth has also slowed due to increased political violence, and a drought-induced decline in agricultural production.
Deteriorating economic prospects have convinced Iran and Afghanistan to cooperate with each other in mutually beneficial ways. As the Trump administration's pledge to punish violators of U.S. sanctions against Iran has reduced Tehran's access to hard currency, a foreign exchange black market has developed along the Afghanistan-Iran border. Afghan financier Bahulludin Rahimi, the president of the Federation of Money Changers in Herat, estimates that $2-3 million enters Iran illegally from Afghanistan every day. Although Iran can still count on investments from countries willing to defy U.S. sanctions, like China and Russia, a steady influx of U.S. dollars from Afghanistan helps ease the economic woes of eastern Iranian cities, like Mashhad.
The informal trade of U.S. dollars for goods along the Iran-Afghanistan border is sustained by the Afghan government's weak law enforcement capacity, and Kabul's reluctance to crack down on a trade that has provided much-needed revenues for cities in western Afghanistan. In addition to the establishment of an informal economy based on currency exchange, the free movement of goods between Iran and Afghanistan has allowed Afghans to profit from the depreciation of the rial. The food and beverage resale industry has grown because Afghan businesses are able to purchase cheap goods from eastern Iran and sell them for higher prices in western Afghanistan. As Afghanistan's unemployment rate has reached 40 percent and areas of western Afghanistan with a sizable Taliban presence suffer from extreme poverty, the economic benefits associated with increased Iran-Afghanistan trade are too compelling for Kabul to ignore.
Second, the normalization of Iran-Afghanistan relations could enhance the long-term viability of India's Chabahar port construction project. Although Indian Prime Minister Narendra Modi has resisted pressure from the United States to suspend India's economic links with Iran, concerns about retaliatory U.S. sanctions have recently caused India to distance itself from Tehran. On August 5, India's oil ministry asked Indian refineries to prepare for a "drastic reduction or zero" imports of Iranian oil from November onwards, and New Delhi has expressed interest in expanding its oil imports from Saudi Arabia.
Modi's shift in policy toward Tehran has sparked concerns in Iran and Afghanistan that India will scale back its investments in Chabahar. If the Iran-Afghanistan relationship remains tense, India will be more likely to suspend the Chabahar project, as the port construction's success depends on a positive relationship between Tehran and Kabul. However, India's purchase of Russia's S-400 missile defense system reveals that Modi may risk a confrontation with the United States, if he believes that U.S. sanctions undercut India's strategic interests. Iranian policymakers are hoping for a similar act of defiance from India against the United States over Chabahar, and believe that improving the Tehran-Kabul relationship is the most expedient way to achieve this outcome.
Iran's strategy has yielded an important initial success. In response to the positive meeting between Rouhani and Ghani, Afghanistan announced that it would ask the United States for an exemption from Iran-related sanctions. This announcement showcased Afghanistan's commitment to Chabahar's construction. Rouhani's emphasis on common interests between Iran and Afghanistan has also assuaged Indian concerns about a deepening Tehran-Kabul conflict. As Iran and Afghanistan appear willing to set aside their differences to cooperate on Chabahar's construction, India could continue investing in the project, and request a sanctions waiver from the United States to grant it immunity from punitive measures.
Third, Rouhani's outreach to Ghani at the SCO summit, and subsequent dialogue on economic cooperation with Afghanistan, underscores Iran's desire to frame itself as a constructive actor that wants an end to the war in Afghanistan. During his May 21 speech at the Heritage Foundation, U.S. Secretary of State Mike Pompeo accused Iran of arming the Taliban, and claimed that Iranian actions in western Afghanistan were destabilizing the country. Pompeo's accusations echo claims from senior Afghan government officials about Iran's destabilizing conduct in Afghanistan, and undercut the credibility of Iran's efforts to present itself as a stakeholder in the resolution of the war in the Afghanistan.
In order to combat criticisms of Tehran's conduct, Rouhani recently stated that Iran will "spare no effort" to restore peace and stability to Afghanistan. Iran has also pledged to cooperate with the Afghan government on the destruction of the illegal drug trade in Afghanistan, and sent an intelligence representative to a meeting with China, Pakistan, and Russia on combating Islamic State's branch in Afghanistan. These gestures seek to counter Afghan public animosity about Iran's military involvement in Afghanistan and prevent further anti-Iranian protests in Afghanistan.
Although the Iran-Afghanistan relationship remains fractious, Rouhani's meeting with Ghani at the SCO summit could result in a reduction of bilateral tensions, as both countries seek to benefit from economic interdependence, and the completion of India's Chabahar port project. These common economic objectives could eventually spill over to the security sphere, as Iran seeks to escape international isolation, and the Afghan government aims to bring the Taliban to the negotiating table. If Iran and Afghanistan capitalize on their common interests, the Tehran-Kabul relationship could improve significantly in the months to come.   
Samuel Ramani is a DPhil candidate in International Relations at St. Antony's College, University of Oxford. He is also a regular contributor to the Washington Post and The National Interest. He can be followed on Twitter at samramani2.