Brunei-Russia Defense Relations in Focus with Navy Chief Visit
A closer look at the state of bilateral defense ties in the context of a recent engagement.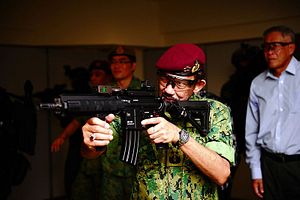 Late last month, Brunei's navy chief paid a visit to Russia. The trip spotlighted the ongoing collaboration between the two sides in the defense realm, which has witnessed some notable developments over the past few years relatively speaking.
The bilateral relationship between Brunei and Russia dates back to 1991. But recent years have seen some significant developments on the defense side, including the first Russian warships sent to Brunei as well as the signing of key military pacts to enable the advancement of certain aspects of cooperation. This has occurred amid some gains for ties as well in other aspects of the relationship, be it in terms of science and technology, education, and people-to-people exchanges.
Late last month, the relationship was in the headlines again when the Commander of the Royal Brunei Navy (RBN), First Admiral Pengiran Dato Seri Pahlawan Norazmi bin Pg Haji Muhammad, paid a visit to Russia at the invitation of the head of Russia's Pacific Fleet, Admiral Sergei Avakyants. The visit, which lasted from July 26 to July 30, was his first ever visit in this capacity and saw him participate in a series of engagements tied to the bilateral relationship as well as Russia-related activities.
The headlines during the visit were largely focused on the bigger events that were going on during the visit that the Brunei delegation also participated in: the commemoration of Russia Navy Day Amur Bay area in central Vladivostok and the holding of the International Far Eastern Maritime Show (IFEMS), which has been characterized as the biggest shipbuilding industry event.
The two sides also held a bilateral meeting on the sidelines of these engagements as well. According to Brunei's defense ministry (MINDEF), the meeting saw the Russian side briefing the Brunei delegation on the state of plans for the Russian Pacific Fleet and both sides also discussing the naval aspect of relations, both in the context of the bilateral relationship but also wider multilateral platforms as well including within the ASEAN framework. The RBN chief also had other defense-related engagements, including a tour of the Russian Pacific Fleet corvette Sovershenniy as well as the Russian Pacific Fleet's historical museum.
Unsurprisingly, few additional specifics were disclosed by both sides with respect to the content of their meeting. But given the momentum in Russia-Brunei defense ties over the past few years, it will be interesting to watch how both sides attempt to translate some of this engagement into tangible aspects of cooperation.