Brunei's Military Gets a New Air Force Chief
The official change of command marks another key development in the country's defense domain.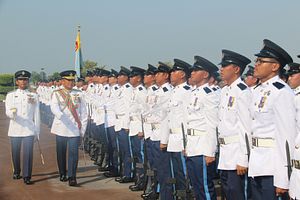 Last week, Brunei formalized the change of command to a new air force chief in a planned formal ceremony held in the sultanate. The anticipated event marked yet another key development in the country's defense realm, which had already seen a series of notable changes thus far in 2018.
As I have noted before in these pages, Brunei has been announcing a few changes in top officials following a wider political reshuffle earlier in the year. Those changes came amid a challenging past few years for Brunei, with its defense budget coming under growing strain due to broader economic challenges for the small, oil-rich Southeast Asian sultanate (See: "What's Behind Brunei's New Defense Budget Hike?").
In terms of the Royal Brunei Air Force (RBAF), Brigadier General Haji Hamzah, who had earlier served as the Joint Force Commander of the RBAF since 2014 and as chief of staff of the Joint Force Headquarters since 2010 before that, was to take over from Brigadier General Shahril Anwar, who was the 13th Commander and had held that position for around three years. Haji Hamzah was initially educated in Britain and was first enlisted into the RBAF back in 1988.
On August 17, the shift was effectively formalized when Haji Hamzah officially took up his position following a change of command parade held at Rimba Air Force Base. As is customary, the parade featured a range of military personnel as well as officials, with various steps including the inspection of the guard of honor, speeches by both outgoing and ingoing air force chiefs, and a signing ceremony and handover certificate. There was also a tree-planting ceremony.
According to Brunei's defense ministry (MINDEF), in his farewell address, the outgoing air force chief emphasized not just the importance of equipment or technology, but the role of human resources, including honest, trustworthy, and loyal personnel. The theme has been one that has featured in defense speeches of late as well, including by Brunei's Sultan Hassanal Bolkiah who still officially holds the title of defense minister as well.
Unsurprisingly, few additional specifics were offered in terms of the speeches given at the event or the priorities that lie ahead for Brunei's air force, including its challenges which remain quite significant. But as new officials settle into their positions and defense policy begins to adjust through the rest of 2018 and then into 2019, it will be interesting to watch how those specifics play out and what they will mean for the country internally as well as externally.