Dos and Don'ts for Imran Khan if He Wants to Govern for 5 Years in Pakistan
Khan should heed the lessons of his predecessors as he assumes the reins of power in Pakistan.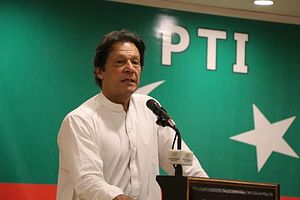 The Pakistan Tehreek-e-Insaf's (PTI) newly elected government has had a mostly public relations-focused first week in office, focusing on sending out statements regarding the party's policies on improving the economy, tackling corruption, restructuring Pakistan's foreign policy, and promises to keep the country's interests ahead of personal interests. Imran Khan, the head of the ruling party and Pakistan's new prime minister, in his first public address to the nation presented a socioeconomic agenda that mainly focused on rebooting Pakistan's economy and improving social welfare services for the poor. Khan's big promises of structural reform will require a lot of resources and sustained support from the PTI's coalition partners.
Furthermore, the mere survival of Khan's government for five years will require extreme vigilance when it comes to dealing with some issues and strategically ignoring or taking action against certain groups or actors within the state. The following four issues will remain essential when it comes to Khan and his government's ability to survive and thrive for an entire parliamentary term.
First, collaboration with the country's national security establishment on issues of security and foreign policy will remain essential to Khan's ability to follow his reform agenda and gain space for smooth governance throughout his constitutional tenure of five years. In Pakistan's history, not a single prime minister has completed the stipulated constitutional term in office. One of the reasons for the elected prime ministers' inability to complete their terms in office deals with their failure to coordinate and align their foreign and security policy objectives with the country's national security establishment. Maintaining a good working relationship with the country's security institutions and smoothing over differences with effective engagement on issues of foreign and security policy will determine Khan's future as prime minister.
Second, the PTI government should remain mindful of the role and street power of various Islamist groups based in the country. In this regard, walking a fine line concerning the party's legislative agenda, which doesn't overtly challenge Islamist group's ideological space, and making small and effective interventions to roll back the space gained by extremist groups will remain essential for the party's ability to govern effectively. In this regard, the party should try to take on board the leadership of various Islamic sects to work out a plan that promotes a progressive and liberal outlook of Islam and gain support from all religious groups that condemn hate and bigotry in all forms and shapes. Moreover, Khan should ensure the implementation of the National Action Plan (NAP), a 20-point agenda to counter extremism in the country, by taking on board the military and other state institutions. Making all important actors of the state, including the leadership of various Islamic sects, a part of the process will offer Khan more space and legitimacy, which would be helpful in smoothing over a number of political obstacles that emerge from the popular public appeal of Islamist groups in Pakistan.
Third, Khan's government relies on a number of smaller political parties for its survival as the PTI was unable to win a simple majority to formulate the government on its own. If only one or two political parties that are now in alliance with Khan's government were to withdraw their support, the current government would find itself in serious trouble. Moreover, while Khan's party doesn't rely on major political parties to stay in power, keeping on the good side of a large number of small parties with distinct political and ethnic agendas will be difficult. It's not going to an easy task for the government when it comes to implementing its coalition partners' political agendas, which the government has agreed to in order to obtain their political and constitutional support. On the part of the PTI, this would require a combination of smart politics and a gradual implementation of demands made by political groups that are in alliance with Khan's party. In a nutshell, Khan's party cannot afford to alienate its political partners as it can virtually end Khan's premiership.
Fourth, the government should make sure that it continues to retain its current support base, particularly among the country's middle class and youth, for they make up most of the PTI's support base. In the coming weeks and months, the government may have to make some tough decisions concerning the country's economy and taxation. These decisions are not likely to align with the party's voter base, which expects big relief from Khan's government. Khan, who has set a high bar in terms of promises made, is not likely to offer any substantial relief to his voter base as a monetary and fiscal crisis loom large over the country. While the government will have to ensure that it keeps its support base satisfied with its governance priorities and policies, Khan cannot afford to estrange his voters, for a shrinking electoral base would only increase domestic political opposition.
A clever and smart politics and approach to governance may guarantee Khan's survival at the Prime Minister's House for five years, which no one has ever done before.