India Should Allow More Than 50 Percent Foreign Investment in Defense
It's long past time for New Delhi to allow for great foreign ownership of defense sector firms.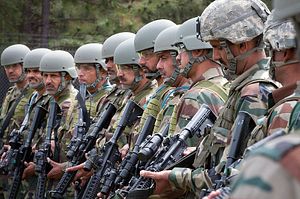 On July 18, the Minister of State for Defense of India, Dr. Subhash Bhamre, released the latest Foreign Direct Investment data in the defense production sector in response to a question from India's Lok Sabha, the lower house of Parliament. The data showed that India had received a paltry $5.13 million from 41 FDI proposals in the 18 years from 2000 to 2018, underscoring the need for India to reform its FDI regime in the defense sector.
Although the Narendra Modi-led government has taken some steps already to raise the FDI cap in defense, it must clarify its vague language on when FDI above 49 percent is permitted, as well as further liberalize the regime allow majority foreign ownership of India-based defense firms.
History of FDI Regime Liberalization in the Defense Sector
The Industrial Policy Resolution, 1948, outlined that the defense sector would be the "exclusive responsibility of the state," effectively establishing a state monopoly in the sector which lasted until 2001. That year, the government permitted private companies to enter the defense production sector with a maximum of 26 percent FDI, subject to approval from the government. This change, however, did little to attract FDI in the sector. Indeed, data from the Department of Industrial Policy and Promotion (DIPP) showed that India attracted only $50,000 in FDI from 2001 to 2008.
Calls came from within the government to rise the cap on FDI in the defense sector. Indeed, the Lok Sabha Standing Committee on Defense noted that "While giving due weightage to the numerous benefits that would accrue to the industry and economy as a result of increased in-flow of FDI, the Committee are of the firm view that the possibility of increasing limit of FDI up to 49 percent in defense sector should be examined by the Government." The United Progressive Alliance, which was in power in India from 2004-2014, also recommended in its Economic Survey for 2008-2009 that the government should "Raise FDI limit in defense industries to 49 percent (from 26 percent)," and even went as far as recommending allowing "up to 100 per cent FDI on a case by case basis, in high technology [and] strategic defence goods."
Still, it was not until August 24, 2014, after the Narendra Modi-led National Democratic Alliance came to power, that the FDI cap was increased from 26 percent to 49 percent, subject to government approval. However, it also included a clause that FDI above 49 percent would be sent to the Cabinet Committee on Security for approval, contingent upon on whether "it is likely to result in access to modern and 'state-of-art' technology in the country." However, data showed that from 2014 to 2015, India attracted $77,000 of FDI from France and $1,000 from Israel.
FDI in the Defense Sector Today and Why Reform is Needed
The FDI regime was most recently amended on June 7, 2016 to allow 49 percent FDI through the automatic route, or without government approval. FDI above 49 percent would still be subject to government oversight, and still includes a clause regarding "access to modern technology or for other reasons to be recorded." With such vague guidelines and no definition of what "modern technology" or "other reasons" may mean, FDI inflows have remained miniscule. Indeed, FDI data from DIPP underscores how, despite the change in June 2016 to further "liberalize" FDI in the defense sector, India attracted only $10,000 in FDI between March 2016 and March 2018.
One of the biggest contributing factors for this lack of investment remains the vague and unclear guidelines for FDI proposals above 49 percent. While the government did drop language stipulating "state-of-art technology" between 2014 and 2016, the changes have not clarified details for foreign firms, who have told news outlets "The ambiguity on what is modern technology remains and there is no clarity on what are the norms to be followed for investing over 49 percent. This has led to even more confusion."
As a result, only one company has, so far, submitted a 100 percent FDI proposal. In September 2016, reports emerged that French firm DCNS had submitted a proposal to open an Indian subsidiary, bringing its submarine technology to India. However, the proposal was rejected by the Foreign Investment Promotion Board, reportedly over whether the technology transfer was sufficient enough to approve the proposal. The episode underscores why India needs relax restrictions and clarify ambiguities to liberalize the FDI regime further.
India has clearly had significant trouble attracting FDI in the defense sector, receiving only $5.13 million over 18 years in investments. If the government is serious about attracting modern and state-of-the-art defense technology, it must reform its FDI regime to allow more than 50 percent foreign investment in the sector.