Japan: 5 Things to Watch in the Next LDP Presidential Election
Don't dismiss the upcoming LDP elections as a done deal. Here are five things to pay attention to as the election approaches.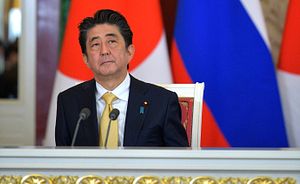 Former Defense Minister Shigeru Ishiba announced his candidacy for president of the Liberal Democratic Party (LDP) on Friday, August 10. According to Japanese media, 20 members of his own faction and approximately 21 Upper House members from the Takeshita faction decided to support Ishiba. However, Prime Minister Shinzo Abe has already secured the support of five other major factions (Hosoda, Aso, Kishida, Nikai, and Ishihara) and approximately 34 Lower House members from the Takeshita faction. Abe is likely to earn more than 70 percent of the 405 votes of LDP Diet members.
So, should we forget about the upcoming LDP presidential election? Not so fast. Here are five things that you should care about concerning the election.  
How "Overwhelmingly" Would Abe Win?
The LDP limits its president to three terms. If Abe wins, it will be his third and last term (lasting until September 2021) as the LDP president. After the election, the Abe administration will become a lame duck sooner or later. How can Abe delay that condition as much as possible? He must achieve an overwhelming victory against Ishiba. At the 2012 run-off election, Ishiba gained 89 votes from the LDP Diet members while Abe secured 108 votes. The challenge to Abe would be to keep Ishiba's Diet member votes as close to the 2012 level as possible. Abe then will be able to have greater freedom to carry out his policy agenda, including constitutional revision, before his time in office is done.
Can Ishiba Demonstrate Himself as an Attractive Alternative?
In 2012, 55 percent of the local votes went to Ishiba, while 29 percent went to Abe. Can Ishiba reproduce a similar result? According to the Asahi public poll, 27 percent of LDP supporters supported Ishiba in 2012, but currently that number is at 19 percent. In 2012, only 18 percent supported Abe and currently that number has risen to 54 percent approval. The status of both Diet members and local votes is not in favor of Ishiba. The Upper House election is scheduled for the summer of 2019. If Ishiba can demonstrate approximately or more than 30 percent of the local votes which Abe received in 2012, and if the Abe LDP loses the 2019 Upper House election, Ishiba could become a front runner among possible candidates.
Could a Third Candidate Emerge?
The current LDP presidential election scheme was established in 2003. Since then, at least three candidates have competed in every LDP presidential election. Why so? In LDP politics, a head-to-head fight between two candidates has been generally feared because it would leave stiffness ("Shikori") or a grudge ("Onnen") in the intraparty governance after the election. So, how about this time? Former Foreign Minister Fumio Kishida dropped out and joined the Abe camp. Seiko Noda, minister for internal affairs and communications, is still looking for a chance but it has been difficult for her to find support from 20 LDP Diet members, which is required to become an official LDP presidential candidate. There is still time remaining, so we will see if a third candidate can emerge.
How About Shinjiro Koizumi?   
As the son of former Prime Minister Junichiro Koizumi, Shinjiro remains greatly popular among the Japanese public. He currently serves as chief deputy secretary-general of the LDP. In 2012, Shinjiro disclosed after the election that he had voted for Ishiba. Among the 405 LDP Diet members, approximately 73 members, including Shinjiro, do not belong to any intraparty faction. In the spring, Shinjiro launched a new intraparty study group on socioeconomic reforms with approximately 30 LDP Diet members. If he openly endorses a specific candidate (for example, Ishiba) before the election, it will certainly have impact on the voting behaviors of young LDP Diet members.
Who Would Become the Official Endorser to Which Candidate?
Politicians of all countries always seek better future political opportunities. When an LDP Diet member officially endorses a candidate and that candidate loses, that member becomes less likely to acquire a good position in the party or the cabinet. However, if the candidate wins, there is a greater chance to be awarded an attractive party or cabinet position after the election. In 2012, Abe appointed 12 out of 20 official endorsers as cabinet ministers and prime ministerial advisors. We were given a good picture of the new Abe cabinet before its establishment.
Under the parliamentary system, the LDP presidential election is essentially where the next prime minister is determined. The candidates will debate on critical policy issues including economic growth, social security, budget deficits, and national security. Yes, Abe will probably win, but their debates will determine the Japanese policy direction of the next three years nonetheless.
Dr. Aki Nakai is an adjunct faculty in the Pardee School of Global Studies at Boston University and the Political Science Program at Lesley University.