Lombok: After the Earthquake
The powerful earthquake left at least 131 dead in Lombok, Indonesia.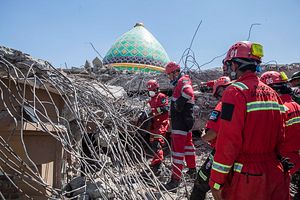 On Sunday, August 5, a powerful earthquake – measuring at magnitude 7 — struck Lombok in Indonesia's West Nusa Tenggara province. As of August 8, the National Disaster Mitigation Agency said that at least 131 people had died, mostly from building collapses, and 1,477 were injured. Also according to the agency,42,239 houses were damaged and 156,003 people were displaced at some temporary evacuation points.
The rescue team continued to try to search for and evacuate earthquake victims. However, communication access is an obstacle.
Through 11 p.m. on August 6, nearly 200 aftershocks were recorded. The Meteorology, Climatology and Geophysics Agency (BMKG) urged residents to remain vigilant and temporarily avoid buildings that are prone to collapse. It also asked the community to stay away from fragile rock slopes or cliffs that could be prone to landslides.
Some residents who were still traumatized by the strong shock on Sunday night chose to evacuate and were reluctant to return home even though their houses were not damaged.
Agoes Rudianto is a Jakarta-based independent photographer.