Malaysia's Canceled Belt and Road Initiative Projects and the Implications for China
Malaysia–China relations are poised to remain friendly and may even offer China an opportunity to reassess how BRI projects are evaluated and implemented.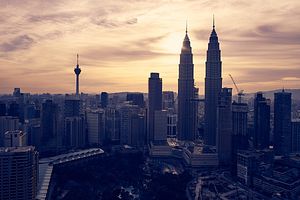 The circumstances around Malaysian Prime Minister Mahathir Mohamad's first trip to China following his re-election were far from auspicious as allegations of corruption and fiscal mismanagement plagued several Belt and Road Initiative (BRI) projects. Following the five-day visit, Mahathir announced the cancellation of three BRI projects: the East Coast Rail Link (ECRL) and two gas pipelines, the Multi-Product Pipeline (MPP) and Trans-Sabah Gas Pipeline (TSGP).
The cancellation of these projects should come as no surprise. Mahathir has continually chastised his predecessor Najib Razak for embarking on these ventures, as he deemed them to be detrimental to the country and its fiscal health. Throughout his campaign, Mahathir pledged to reduce the state's rising debt levels and the BRI project would only prove to increase such debt.
While scrapping the projects represents a blow to China's BRI ambitions in Malaysia and the region, the Malaysia–China bilateral relationship will not be adversely affected and instead will provide Beijing with an opportunity to learn valuable lessons and reassess project evaluation and implementation.
In the months leading up to the visit, claims of misappropriation of funds, corruption, and misdeeds have surrounded the three nixed projects. In early July, after mounting concerns that the contract values had appeared to be inflated and $700 million had been diverted to pay off debts connected to 1MDB, the Mahathir administration halted work on the ECRL, which was slated to stretch 430-miles connecting the South China Sea to shipping routes of Straits of Malacca providing an essential trade link for China.
The ECRL was being built by China Communications Construction Co Ltd and mainly financed by a loan from the China Exim Bank. On July 18, the Malaysian Anti-Corruption Commission (MACC) raided several offices and seized documents in connection of the MPP and TSGP after corruption and mismanagement allegations surfaced. Despite disbursing $2 billion for the two projects, Minister of Finance Lim Guan Eng commented that "zero percent of the construction work has been carried out."
The MPP was a 372-mile multi-product petroleum pipeline connecting Melaka and Port Dickson to Jitra in Kedah State, and the TSGP was a 411-mile gas pipeline stretching from the Kimanis Gas Terminal to Sandakan and Tawau, both were being constructed by a subsidiary of China Petroleum Pipeline Bureau.
With the government estimating that Malaysia's national debt at roughly $252 billion and approximately 65 percent of gross domestic product, it is not shocking that the three projects totaling $23 billion were scrapped. Instead of holding Beijing accountable and as a corollary seeking to maintain cordial relations, Mahathir laid the blame on his predecessor Najib.
During a business forum in Beijing, Mahathir excoriated Najib saying, "It is not about the Chinese, it is about the Malaysian government. They borrowed huge sums of money and now we have problems trying to repay the money that they have owed…That is Malaysians playing around with money, not even doing proper feasibility studies and due diligence before going into business."
By placing the blame on Najib, Mahathir was able to not only avoid straining bilateral relations and get Beijing to agree to cancel the projects albeit with penalties to be figured out, but shifted the narrative away from the dominant BRI debt trap account to one which portrayed the situation as 'Najib's debt'.
The cancellation of the railway and two energy pipelines certainly undercuts Beijing's BRI ambitions in Malaysia. Furthermore, the halted projects will cause other nations in the region, such as Myanmar and Indonesia, who are both seeking to renegotiate BRI-backed projects, to take heed.
That said, Malaysia–China relations are poised to remain friendly and may even offer China an opportunity to reassess how BRI projects are evaluated and implemented. In Malaysia, China still maintains several BRI projects, including the Kuantan deep-water port and industrial park, the Melaka Gateway project, and the Forest City in Johor, all of which could still continue to some degree.
With China as Malaysia's top trading partner, ensuring cordial relations was a top priority during Mahathir's trip to China. A number of memorandum of understandings were signed, in which China agreed to purchase more palm oil and facilitate the export of durians, and secured a commitment from automaker Geely to start selling Malaysia's Proton cars in China.
So despite the negative press around the cancelled BRI projects, it is clear that China has an opportunity to learn from the Malaysian case. In progressing forward, Beijing should begin to implement international best-practices in infrastructure development so that it can construct much needed infrastructure in its partner countries which can contribute to their economic development and regional integration.
Blake H. Berger is a foreign policy analyst and Southeast Asia specialist based in New York.