Pakistan: Imran Khan's Economic Challenges
Imran Khan will try to usher in a new era for his country. The first step requires tackling its economic challenges .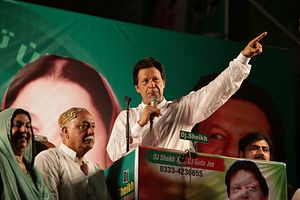 After almost 22 years of political struggle, Imran Khan and his party, the Pakistan Tehreek-e-Insaf (PTI), have finally emerged victorious in what appears to be, despite allegations, one of the most civil electoral exercises the country has witnessed in the last few decades. Pakistan's general elections mark the second successful democratic transition of the government, which in and of itself represents a tremendous victory and promising step for the future.
However, the man soon to be appointed for the top job in governing one of the most geostrategically important, yet turbulent, countries in the world has a huge responsibility riding on his shoulders. Khan's primary voter base, the Pakistani youth, are earnestly looking to him as a pioneer of a new political era,  at a critical juncture when Pakistan is battling a serious debt crisis and facing a policy predicament in light of China's growing economic foothold in the country. Given his claims to be a transformative leader, Khan's political momentum and commitment toward the welfare of the youth will profoundly determine the country's position in face of intransigent socioeconomic challenges.
The Looming Economic Crisis
Khan's landslide victory is not surprising given his political aptitude and widely acknowledged charisma. In the aftermath of former Prime Minister Nawaz Sharif's political debacle, the PTI and its supporters – as perfect opportunists – reinforced their campaign by utilizing an anti-corruption slogan. The PTI based the party's election manifesto on a more transparent democratic system and an inclusive economic vision. The ingeniously designed manifesto immediately swayed the youth as well as marginalized demographic groups, including women and religious minorities. It presented to audiences the prospect of hope by defining policies designed to create millions of jobs, accelerate Pakistan's growth potential, and depoliticize economic institutions. However, words can only engage and persuade to a certain degree, and the current realities pose grave challenges.
Long before the elections, the downward economic trajectory of Pakistan was beginning to become apparent. Any marginal export growth was heavily offset by soaring imports, which swelled the trade deficit to almost $33.9 billion during the July-May period of fiscal year 2017-18. Therefore, regardless of the election outcome, the incoming government's foremost challenge would be to address the issue of macroeconomic instability, and Pakistan's seemingly perpetual dependence on bailouts from the International Monetary Fund and its often onerous conditions.
An economy marked by dwindling foreign reserves, a diminishing economic growth rate, and a deplorable balance of payments deficit — up by 42 percent in the last quarter — is not only vulnerable to external shocks, but is also alarming from a national security perspective. Religious extremism, radicalization, and militancy, though considerably diminished, still pose an implicit threat to national stability, a scenario exacerbated by continued economic uncertainty and a youth population that sees few career prospects.
Khan's campaign rhetoric was rooted in socioeconomic egalitarianism and his victory speech explicitly mentioned concentrating efforts on combating tax evasion, strengthening trade relations with neighbors, and reforming dysfunctional state institutions responsible for the economic downturn. His words were certainly enterprising but the plan for implementation is yet to be shared.
Pakistan's economic outlook does have certain viable prospects, including a rapidly accelerating economic partnership with China. Since 2013, China's financial clout in Pakistan has expanded noticeably vis-à-vis the China-Pakistan Economic Corridor (CPEC) — a flagship part of China's Belt and Road Initiative. China's $62 billion investment in the country makes it a key lifeline in keeping the economy afloat.
However, despite the potential benefits of CPEC and relations with China, economic pressures will force Khan's administration to strategically mend ties with the United States, which have been under strain since earlier this year.While the schism is rooted in issues pertaining to security and terrorism, a robust bilateral relationship will not only encourage the United States to participate in Pakistan's commercial prospects, but also help support the country's global economic interests across multilateral institutions where Washington has influence.
At the national and local levels, a key motivation that could encourage Khan to expedite his economic ambition is the welfare of his key constituency, that is, the country's youth. Pakistan is currently experiencing monumental growth in its youth population, making it one of the youngest countries in the world. As is readily identified by economists and policymakers alike, there is a need to create almost 1.3 million jobs annually to match the escalating demand. Therefore, further economic regression  will create a very undesirable human capital challenge by way of minimizing employment and education opportunities, potentially setting back an entire generation and fostering even greater socioeconomic concerns.
The crickete- turned-politician set a precedent for expanding academic and vocational opportunities for youth by setting up Namal College early in 2008, in the remote locales of the Mianwali district. Nevertheless, the present economic stressors make it imperative for Khan to further identify innovative ways of investing in youth, allowing them to meet their full potential. This starts with having a significant role in Pakistan's economy and focused engagement of the concerns of young people – tomorrow's business leaders – in the policy framework.
Looking Forward
As Imran Khan formally takes the oath as Pakistan's 19th Prime Minister on August 11 in a very public ceremony, he will inherit a nation teetering on the edge of economic disintegration and in desperate need of innovative institutional changes (governmental and judicial), both at the national and provincial levels. Khan, however, will not be the first to inherit the prospect of an economic calamity as his early point of order.
Pakistan desperately requires a sound direction and coherent strategy toward national recovery. Khan's recruited cabinet must identify areas where government expenditures can be immediately curtailed and reformulate macroeconomic policies according to the faltering economic dynamics of the country. Beijing-backed CPEC can be a perfect opportunity for Khan to leverage in order to generate meaningful employment for the youth within diverse sectors of the economy.
Even though the PTI has gathered the winning seats in the parliament, the opposition will likely be comprised of savvy players representing well-rooted parties who are much more ingrained within the political architecture than Khan himself. Therefore, the current circumstances demand greater accommodation toward empowering a strong coalition and inviting collaborative efforts for the purposes of national interest. In sum and substance, the new government should break away from the traditional bureaucratic shackles in becoming more rational, dependable, and perceptive of its citizens' aspirations.
There is no doubt that Imran Khan will bring a hint of glamor and panache to Pakistan's global image and may help eradicate some of the manifold misperceptions regarding the country. However, it is his stance on the economy that will determine his political fate and Pakistan's future.
Farwa Aamer is a Research Associate for EWI's Asia-Pacific program with a key focus on the China-Pakistan financial relationship and OBOR related investments. She also oversees and facilitates the program's South Asia initiative.