Street Harassment in Pakistan
Verbal and physical harassment of women is common on Pakistan's streets, with little recourse for victims.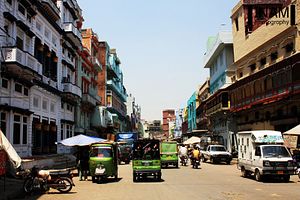 I do not remember the first time I was sexually harassed on the roads of Lahore – Pakistan's cultural hub and a historical city. But I felt by my early teens that those roads were not safe for me.
The first specific incident I can remember is from my early 20s. It was a hot afternoon. I was going to my house from my coaching center. I was just a street away when a man on a motorbike, coming from behind, slowed his bike near me, grabbed my hips and ran away. It happened in seconds. At first, I did not understand what had happened. When I realized, I went into shock. I felt humiliated. I wanted to beat the man but he was nowhere to be seen. I felt so helpless at that moment.
Street harassment is a form of sexual harassment that consists of unwanted comments, gestures, honking, wolf-whistling, catcalling, exposure, following, persistent sexual advances, and touching by strangers in public areas. Sadly, it is a very common phenomenon in Lahore, experienced by females irrespective of their age and dress. They are women and they are on the road; that is enough for them to be harassed.
Aleena, a housewife, recalled some painful experiences. "I cannot forget those voices. They would say 'sexy,' guess my breast size, and follow me til my house. I stopped going out of the house alone after two or three experiences. That is the only way you could save yourself from such experiences."
A majority of the women in Pakistan cover their body in a long, black robe called abaaya before leaving their house. Some find the reasoning in the teachings of Islam, which asks Muslim women to be modest in their dress. But some wear the abaaya to keep themselves safe from the prying eyes of street harassers.
Memoona, 28, recently completed her Master's degree in journalism from the University of Punjab, located in the center of Lahore. She wears a black abaaya, reaching down to her toes, above her clothes and covers her face with a veil before leaving her house. She thinks she has never faced street harassment because of her veil and abaaya: "They only stare or pass nasty comments when I pass by but no one has ever tried to touch me. I think my veil and abaaya stops them from doing that to me."
There are many women like Memoona who don't consider staring, catcalling, unwanted comments, and crude gestures a form of harassment. It shows how common these things have become on the roadside in Pakistan.
Many times, however, this verbal harassment turns physical. Whatever type of harassment it turns into, the victim prefers to stay silent, thinking that it will besmirch their family name if they disclose or report the incident. Many let these incidents go because, of course, they don't know the person and they don't have proof.
"I tried [to report] it a few times," one 30-year-old banker shared. "I used to think that the women should not stay silent; instead they should hold the harasser accountable for his unwanted action. But I was wrong. You can't do this. If you do, the harasser would ask you what he had done to you. With a dozen people around you, how could you tell what he had done? Even if you say, he would simply deny it. The people around you will suggest you let it go and you would have to just let it go."
One young student from a private university in Lahore suggested that women should behave rudely with men.
"She should not give them an impression that she is an easy target. Only in this way, women can stop harassment targeting them," the student said.
Some women prefer not to go out without male members of their family. It could be their father, brother, husband, son — even a small child. It gives them a feeling that they are safe.
Though women who use public transport for their commute are more likely to fall victim to harassment, women who drive their own cars or use private taxis get no exemption.
Saadia Ali, who works for a local media channel, drives her own car. When she was asked to share her experience of street harassment, she had a lot to say.
"I was going to the parking [lot] near my office, where I normally park my car. A group of boys in a car slowed down near me and made comments and made some gestures. I could have done nothing," Ali said.
"On another occasion, I was coming back at night from a wedding. Soon after I left the venue, I noticed a car chasing mine. I had to speed up to reach my home as soon as possible."
The government of Punjab established the Punjab Safe City Authority (PSCA) under the Punjab Safe Cities Ordinance, 2015 to ensure the establishment, development, and maintenance of an integrated command, control, and communication system for police in major cities of the province for public safety. Under this project, the whole city is monitored through cameras to ensure security. But rather than harassment, the main concern is terrorism-related activities and traffic rules violations.
The PSCA did introduce a women's safety app in January 2018 to help women track the safest route to travel in the city and also to highlight the places they find are dangerous for women as feedback to the authorities. The app also includes tips for planning for a safe journey, an emergency button, and seeks to raise awareness among the masses about violence against women. Women can also call a police helpline to register complaints in case of any danger or threat to their security.
The PSCA is still in the promotion phase of the app. They arrange seminars at different girls' colleges and universities make female students aware about harassment and the app. When asked about how many women have sought help through this app, the Safe City media manager said he doesn't have any data on this.
Tehreem Azeem is a digital media journalist based in Lahore, Pakistan. She reports on issues related to blasphemy law, censorship and human rights violation. She tweets @tehreemazeem