Taking India's Climate Migrants Seriously
In India, close to 1.5 million people are classified as internally displaced every year, many for climate change reasons.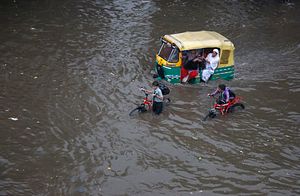 Last year, a little over 1,300 people lost their lives and several thousands were displaced because of incessant flooding in India, Nepal and Bangladesh. The scale of the destruction was massive, with over 41 million people affected and 950,000 houses destroyed.
This year is proving to be no different. Over the last couple of months, a large section of Northeast India has been severely ravaged by flash floods with over 100,000 affected in Assam alone. The situation is equally bad in the states of Tripura, Meghalaya, Manipur and Mizoram.
In what is now increasingly being seen as the norm rather than the exception, extreme weather events like cyclones, droughts and tropical storms are wreaking unimaginable havoc in disaster-prone regions and a large section of the population find their lives uprooted and livelihoods destroyed.
On August 29, 2017, the day that Mumbai received 331.4 mm rainfall, the highest in a decade, the migrant labor population living in squatter communities was one of the worst affected. With buildings often constructed out of salvaged materials, wall collapse and drowning was identified as the most common reason for injury and death. In the aftermath of disasters like these, contamination of drinking water further results in the incidence of water-borne diseases that lingers on for several months.
Forced to adapt, climate migrants move to big cities in the quest of a better and more stable life. However, poor and untenured housing conditions, absence of social protection schemes like medical insurance and inadequate resource supplies leave these people equally vulnerable to nature's fury in the city. 
For example, when cyclone Phailin ravaged the coastal state of Orissa in 2013, the state witnessed an unprecedented scale of migration of fishing communities that had otherwise been based there for decades. Similarly, in the state of Uttarakhand, flooding and incessant rain has brought about mass migration of the rural communities. According to 2011 census figures, of 16,793 villages in the state 1,053 have no inhabitants and 405 villages have less than 10 residents.
Unable to resist climate induced hardships and caught in an endless negative spiral of instability, poverty and desperation, this is the sad plight of a growing number of people, now being referred to as climate migrants or climate refugees. Between 2008-2016, over 200 million people have been displaced worldwide as a result of natural disasters and in India, close to 1.5 million people are classified as internally displaced (1.3 million in 2017) every year.
Defining the Climate Migrant
Within the Indian context, climate-induced migration can be broadly divided into two categories. The first category is migrants who are forced to move from rural to urban areas as a result of an environmental disaster that might have destroyed their homes and farms.
These migrants often seek refuge in mega-cities for the large range of opportunities they present. So in the case of Mumbai, a number of migrants from the South might have moved to the city as a result of land degradation and desertification back home while migrants from the North have largely moved owing to drought.
A report published by Action Aid looks at the issue of climate migration from a gender lens. As men abandon their farms and migrate to cities for work due to drought, women are held responsible for taking on their husband's agricultural duties, while still engaged in household chores and other petty jobs. In the absence of credit and capital, women in rural India face significant barriers that are almost impossible to overcome.
The second category of climate-induced migrants most relevant to India are migrants who move from Bangladesh in search of a better life in India. Bangladesh is one of the world's most natural disaster prone countries — a fourth of its land is just five feet above sea level while two-thirds is less than 15 feet above sea level. In the last three decades, close to a million people have been rendered homeless as a consequence of increasing erosion in the Brahmaputra river basin.
The Sunderban Delta in Bangladesh is also seeing a constant rise in sea levels and incidents of salt-water intrusions. It is estimated that a mammoth 50-120 million migrants may end up becoming climate refugees of Bangladesh in India. 
More recent studies that have reviewed trends and empirical data suggest that Indian cities might not only be the preferred option for Bangladeshi migrants, but also often the only option.
Both forms of climate-induced migration are hotly contested political and diplomatic issues. Climate migrants often lack representation, residency rights or social entitlements and hence find themselves clubbed into the category of illegal immigrants, with little or no effort made by the authorities to discern their motivation for migration. In a country like India where competition for jobs and resources is already very high, the issue is also repeatedly exploited for political gain. 
On the diplomatic stage, international law does not recognize climate refugees under the 1951 Refugee Convention or the 1967 protocol, making them ineligible for any protection under national or international legal frameworks. 
Moreover, while India might be home to refugees from Bangladesh, Nepal, Bhutan, Afghanistan, Sri Lanka and Myanmar, it is one of the few countries in the world that has refused to sign and ratify the 1951 Refugee Convention and the 1967 protocol.
Over the years, a lack of political will in dealing with climate-induced migration has essentially meant that reforms have not kept pace with the problem. Politically, there is little indication that the government has any sustainable or long-term plans to deal with climate migrants from Bangladesh.
The need of the hour as political scientist Miles DePaul suggests is "a normative shift on the issue of climate-induced migration to ensure that those victimized by anthropogenic and natural climate change are met with a compassionate, coordinated global regime rather than strict national immigration policies, like those currently employed in India." Given the politics associated with dealing with illegal immigration, this might be easier said than achieved.
Future Pathways
Going forward, any solution aimed at addressing this challenge within India, has to solve three fundamental questions: How can policymakers integrate principles of resilience into India's agricultural system? How do governments ensure that mega-cities are less vulnerable to the effects of mass urbanization? What is India's long-term plan to finance rehabilitation and reconstruction efforts in the event of climate-induced disasters?
While states like Orissa and Uttarakhand have been making proactive attempts to adapt, environmental experts are of the view that these measures are woefully inadequate given the scale of the problem. Administrative lethargy or the lack of foresight and planning will only further exacerbate the suffering and plight of climate migrants. 
As the cyclone season goes by, policymakers in the Indian subcontinent may be reminded yet again that the effects of climate change are unequivocal and devastating. This is particularly unjust to the climate migrants, as they are least responsible for the mess we find ourselves in. 
Nandan Sharalaya is a German Chancellor Fellow and a Visiting Scholar at the Institute for Industrial Organization, WHU, Otto Beisheim School of Management.