The Working Holiday: Taiwanese Style
Working holidays in Taiwan may be unpaid, but interest is growing among Taiwanese youth.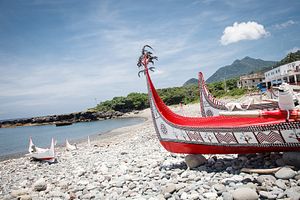 The concept of a "working holiday" is not new. Government programs around the world have developed youth mobility and working visa programs to encourage cultural exchange and closer ties. Taiwan is one country among many that offers young Taiwanese opportunities to travel and work abroad, alongside offering international youth similar opportunities to come to Taiwan.
The Ministry of Foreign Affairs of Taiwan launched a "working holiday" program in 2004, aimed at attracting international youth between the ages of 18-35 to come to Taiwan for language study, short-term courses, or to work legally. These programs are usually limited to citizens of specific countries; for example, Taiwan only offers working holiday visas to citizens of New Zealand, Australia, Austria, Belgium, the Czech Republic, Japan, Canada, Germany, Hungary, Poland, Slovakia, South Korea, the United Kingdom, and Ireland. Australia is another particularly well-known example, providing Work and Holiday visas to a litany of countries, including China (and thus Taiwan) and the United States.
These international opportunities usually come with quite a large price tag, as the programs only assist with a smoother visa process. As a result, more and more Taiwanese youth, particularly college students, are now pursuing working holidays at home in Taiwan rather than going abroad. Known locally as dagong dujia  (打工度假), working holiday is a recent phenomena of seasonal employment in the Taiwanese service industry, most commonly in tourist hot spots such as the beach towns in Green Island, Kenting National Park, Orchid Island, and Penghu Island. Summertime in these locations is the busiest time of year thanks to their iconic oceanfronts and consistent sunshine; students on working holiday become a vital resource for hotels, restaurants, and other service providers, including dive shops. During the summer peak, tourists are more than half of the population, with the remaining split equally between locals and working holiday employees.
The details of a working holiday opportunity are straightforward. In exchange for room and board, most working holiday employees work for free or for "salaries" that can total less than US$100 a month (3,000 New Taiwan dollars). On Green Island, for example, a salary might just include the round-trip ferry ticket (NT$800) to and from the Taidong port on the main island of Taiwan. Only some of these agreements are signed into contracts.
If these opportunities are largely unpaid, why is interest in working holiday growing among Taiwanese youth?
The July and August months are saturated with Taiwanese university students on summer vacation, with most working for one month. Working holidays provide these students with an alternative form of employment outside of internships, with considerably more flexibility. These working holidays also get the students out of cities and out of their parents' homes, allowing a considerable degree of freedom in schedule and dating life.
These domestic working holidays are not just attractive to Taiwanese students. There are also a growing number of young adults looking to working holiday opportunities when considering quitting longer-term employment. Considering the Taiwanese university calendar, students are still in classes in May and June. This leaves holes for young, disillusioned working professionals and Hong Kong students to fill the early summer gap.
While visiting Green Island this past July, I met two Taiwanese professionals in their late 20s working at a scuba dive shop. They both quit their jobs and independently came to Green Island to reconsider their career paths. Both had worked in multiple positions during their time on Green Island, moving between jobs at hotels, cafes, restaurants, and dive shops. They both stayed longer than they anticipated: one for three months, and another who came in mid-April with no plans to leave anytime soon. Each developed a passion for scuba diving, and both plan to pursue Dive Master certification, which allows divers to travel globally as paid dive instructors. Working holidays can lead to a drastic career change for working professionals looking to leave their current industry.
Working holidays provide a unique opportunity to meet fellow Taiwanese as well. These tourist destinations are relatively small, and working holiday employees tend to flock to common meet-up points to pursue shared hobbies. On Green Island, students frequently meet anywhere from a local Family Mart convenience store to one of the many large, iconic BBQ restaurants. Considering that a working holiday does not usually mandate overtime, time off is spent going to the beach, stargazing, free diving, snorkeling, and developing other such hobbies.
Social media is a powerful platform to connect with others doing working holidays. The common hashtag, #打工度假 (#workingholiday), has over 25,000 posts on Instagram, showcasing both international and domestic experiences of Taiwanese on working holiday. Various Facebook groups also connect thousands interested in or on working holiday, such as the 8.5K+ members of the Facebook Group "就是愛綠島" (Just Love Green Island).
Considering the service industry composes 62 percent of Taiwan's economy, working holidays provide youth with the opportunity to engage in Taiwan's most popular business. As a result, working holiday interest and opportunities continue to grow. The prospect of the "holiday" may trump the $0 salary for the "work" but nevertheless provides valuable experience or a platform for a professional pivot.