What's Behind North Korea's New Internet Opening?
Is North Korea really giving its people greater access to information?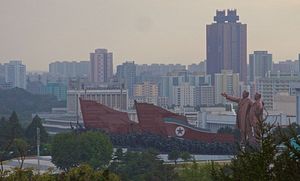 In recent months, North Korea has been actively promoting new mobile devices and services that allow its people to stay connected and online, giving them more open access to the North Korean network.
Take a new tablet PC recently launched in the country. North Korea's propaganda website DPRK Today said last month that the new tablet PC, dubbed Daeyang 8321, was launched in North Korea and has been widely welcomed by users.
This time, the device is said to be equipped with the global system for mobile communications, which allows users to have wireless access to newspapers, books, mobile applications, and online websites.
DPRK Today boasted that people across North Korea are now able to improve their knowledge more easily by downloading necessary materials online and taking distance learning courses with the new tablet.
The new tablet PC is not the only example. North Korea's state-run newspaper Rodong Sinmun reported last month that a new Internet Protocol television service was launched in the country and an increasing number of people were installing the new service across the country.
The new service, dubbed "Noori," can be used by organizations that want to use computer networks for multimedia services in areas where it is difficult to receive broadcasts and areas that are deploying new cable TV networks or monitoring systems.
The new system also can be used for online classes and real-time face-to-face conference calls, according to the paper.
It is evident that North Korea wants to promote and stress the idea that the country is opening up and giving its population greater access to information. Amid recent criticism over Pyongyang's human rights violations, in particular, North Korea seems to be determined to convince the world of the freedom of its people, who are (according to these reports) able to navigate the online world and access whatever they need.
Given this, Pyongyang might dislike a recent report published by the Korea Institute for National Unification, which details how North Korea has cracked down on its people's rights to have and share information.
The report said that North Korean authorities consider cellular phones to be major tools used for distributing outside information, as well as directly and indirectly related to smuggling or defection activities.
In particular, control was tightened extensively after Kim Jong Un came to power, the report noted. "Since the inauguration of the Kim Jong Un regime, the North Korean authorities have installed radio signal blockers and introduced advanced radio detection equipment to crack down on illegal mobile phones," it said.
The North Korean authorities have also established a task force cracking down on illegal mobile devices using Chinese signals and has expanded the scope of the crackdown, according to the report.
Mobile devices, including smartphones, launched in North Korea are all subject to tight government screening as well. It is not uncommon for the authorities to change the operating system of mobile devices to block the storage and transmission of videos, photos, books, and music before they make them available to the public. Although users receive "authorized" mobile devices, the authorities regularly and randomly check on them to see if anyone has changed the operating system or is storing illegal materials.
Regardless of what North Korea wants to promote, evidence indicates that the crackdown from the authorities has continued until very recently.
But why? Aren't there signs of North Korea transforming itself in recent months with summits and visits that promote positive headlines through media outlets across the world?
North Korea's attempt to "open" itself might have done more bad than good for its people, in fact, according to a source based in North Korea.
Speaking to Daily NK newspaper, the source said in June that the North Korean government was eager to crack down on the influx of outside information, which became more visible when the summit between the North and the United States took place.
The source added that Pyongyang seemed to be concerned about people communicating with their family members in China or defectors in South Korea and learning information and stories regarding the summit or leaking inside information.
Another North Korea-based source told the paper that the North Korean authorities are concerned that North Korean citizens might fantasize about leaving the country and settling in the South as talks of reunification gather pace after improved inter-Korean ties.
In the end, these fancy new tablet PC and IPTV services might just be a more sophisticated method of monitoring and controlling the population.