A Boiling Pot: The CCP's Increasingly Intrusive Surveillance in Tibet
China's repressive campaign in Xinjiang is now well-known. But what about Tibet?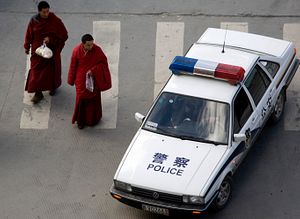 For the past few years, the intensity and the diversity of China's surveillance systems in Tibet have been growing to an unprecedented scale. Findings from numerous rights groups and institutes from across the world confirm the deteriorating human rights situation in Tibet (for a few recent examples, see Freedom House's report from 2018; Human Rights Watch's report from 2018; the Tibetan Center for Human Rights and Democracy's 2017 report; Amnesty International's 2017-2018 report; and the U.S. Congressional Executive Commission on China's report from  2017).
In 2014, the International Campaign for Tibet (ICT) translated numerous comments posted on Weibo (China's equivalent to Twitter) by Chinese tourists who had visited Tibet, particularly Lhasa. Most of the microbloggers shared their complete astonishment in their comments on Weibo. The following is one of the comments, which describes the situation as it was in 2012:
I visited the Jokhang this morning, just in time for the local Shoton festival, and met with some extremely devout believers. Inside the square there were a lot of weapons: People's Armed Police, Special Police, snipers, police, troops standing at the ready, it felt like a war was about to start. Tour guides say, you can't wear revealing clothing, keep your eyes open when you visit, but keep your mouth shut! Has life here always been like this?!
Based on this and other comments, it seems the situation in Tibet was verging on a police-state as early as 2012.
Starting from October 2011, Chinese Communist Party (CCP) cadres were stationed in every village and monastery in Tibet. Starting in May 2012, new offices, known as grid unit offices, were established in towns to provide enhanced security management at the block level. In May 2013, a network of local reporting systems known as the Advanced Double Linked Household system was set up throughout Tibet. Due to these increasingly intrusive surveillance systems in Tibet, the region could boil over, just like a pot placed onto heat and tightly covered.
The "heat" in this metaphor is China's attempt to forcefully assimilate ethnic minorities (Tibetans, in this case) in the name of state-building. This forceful act will further create widespread resentment among the people of the repressed groups, who have already deep-rooted resentments. And now, because of intrusive surveillance, minority groups cannot express their grievances openly, thus leading to a preference falsification (a theory developed by Timur Kuran, referring to the act of deliberately misrepresenting one's genuine views and wants under perceived social pressures). Tsering Woeser (the banned Tibetan writer and blogger living in Beijing) clearly elucidated the situation in Lhasa, the capital of Tibet in the following way:
In the heart of Old Lhasa around the Jokhang Temple, one can often see armed police randomly stop monks or youths in Tibetan garb for interrogation and registration. Ordinary Tibetans are on guard with each other, even their own relatives, fearing there may be police informants or spies among them.
Animosities will keep on increasing in the absence of any freedom for people to vent their grievances, leading to even more collective anger and hatred among the repressed groups.
In March 2013, China unveiled another double-digit rise in military expenditure at the opening of Chinese People's Political Consultative Conference's annual meeting. But for a third year in a row the defense budget was exceeded by spending on domestic security, highlighting Beijing's concern about internal threats. In 2014, domestic security spending was only 0.8 percent higher than defense-related expenses. However, by 2016 this gap reached a record of 13 percent. Domestic security spending that year increased by 17.6 percent, the highest rate since 2008, and exceeded 1 trillion RMB for the first time. Spending on internal security continues to rise because of CCP's sense of rising insecurity.
In Tibet too, the CCP's security spending has increased exponentially. Since 2008, the Tibet Autonomous Region (TAR) "has had the highest per capita domestic security expenditure of all provinces and regions," researcher Adrian Zenz found. "In 2016, per capita domestic security expenses in Sichuan's Tibetan regions were nearly three times higher than for Sichuan province as a whole." Hence, the source of stability in Tibet is increasing domestic security spending.
Tsering Shakya, a famed historian, highlights the impacts of increased surveillance and politically-motivated development in Tibet in the following words:
Like all states faced with separatist demands, the government adopts two strategies: increased surveillance to control the local population and pumping money into the affected areas to induce cooperation and compliance. These policies are problematic, as the increased economic development does not induce greater acceptance and the greater surveillance in the form of restrictions on movement and controlling cultural production has the effect of arousing a greater sense of Tibetan victimisation.
The work of Adrian Zenz and James Leibold also talks about the risks due to the increasing securitization in Xinjiang, which can be related to the situation in Tibet. They argue one risk "is that heavy-handed securitization exacerbates ethnic tensions. Despite the absence of major incidents, hatred and resentment continues to simmer below the surface."
Tsering Topgyal has argued that the chief cause of the 2008 uprising in Tibet was insecurity about Tibetan identity. He further added that "…The harsh crackdown and continuing repression has fuelled great resentment and insecurity among the Tibetans. The insecurity dilemma has not finished its tragic run and it seems just a matter of time before the Tibetans vent their pent up fury again."
In other words, the increasingly intrusive surveillance, leading to the infringement of one's privacy, may become a cause for the future unrest. In 2012, James Leibold, a leading scholar on ethnic policies in China and Tibet, wrote a commentary in The Diplomat, entitled "Can China Have a Melting Pot?" It now seems clear that, if the CCP continues its current ongoing repressive policies in Tibet and Xinjiang, it will have boiling pots, rather than melting pots, in its backyard.
Tenzin Tsultrim earned his Ph.D. from University of Madras, Chennai. Currently, he is a Research Fellow at the Tibet Policy Institute, a think tank of the Central Tibetan Administration, Dharamshala, India.