In Russia's Far East, a Clumsy Attempt to Steal an Election Backfires
Blatant electoral fraud in the Primorsky Krai gubernatorial election spells trouble for Putin.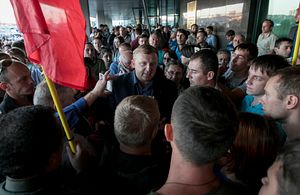 The Russian government has amassed impressive capabilities for interfering in other countries' elections, but these abilities are woefully underutilized when it comes to Russia's own elections. Why bother when you can blatantly falsify the results?
Russia's dismal standards reached a new low on September 16, amid widespread fraud in the Far East. The gubernatorial run-off in Primorsky Krai (the Maritime Province), which pitted the acting governor (and the regime's candidate) Andrei Tarasenko against a Communist Party contender Andrei Ishchenko, witnessed last-minute fabrication of polling station protocols. Tarasenko, trailing far behind his rival with 95 percent of ballots counted, suddenly surged ahead, beating Ishchenko 49.55 percent to 48.06 percent.
Russia prides itself on a sophisticated country-wide voting system. Local protocols are fed into the computer network, and are made publicly available, by the polling station, on the Central Election Commission's website. There is thus a degree of transparency in the system, which of course does not prevent the usual practices like the illegal use of administrative resources, carousel voting, and vote buying (all long part and parcel of the Russian electoral process).
But sometimes even the usual practices fall short. Faced with what seemed like an inevitable victory by the opposition candidate, the local election authorities resorted to desperate measures: fabricating protocols. The unfortunate impartiality of the computer system immediately exposed where the fraud took place, with a number of polling station suddenly showing Tarasenko with 95 percent of the vote, and a few registering a staggering 100 percent.
Tarasenko's failure to win the election in the first round, held on September 9, was widely perceived as a setback to Putin and his party, United Russia. Putin's popularity had been sagging for months. Sluggish economic performance and pervasive corruption have eroded the regime's political legitimacy. An unpopular pension reform package caused a swell of protests across Russia. Tarasenko's failure at the polls was a sign, however tentative, of a society awakening from slumber.
Putin hurried to the rescue of his beleaguered candidate. In Vladivostok for the Eastern Economic Forum (held from September 11-13), Putin endorsed Tarasenko's candidacy, telling him that "everything will be fine." The fabrication of election protocols showed that Putin meant what he said. But the crudeness of the fraud beggared belief. Ishchenko called on his supporters to protest, and briefly declared a hunger strike.
Why would anyone falsify the election results in such an incredibly shameless but also incredibly stupid manner? The evidence suggests that the scam was a local initiative, spearheaded by insecure officials who were stunned by what was shaping to be an upset of national magnitude. Local electoral manipulation is not unheard of in Russia. It's the standard in Chechnya, for example. But the fact that fraudulent elections now take place across Russia – from Chechnya to the Far East – is itself a telling reminder of the deep systemic rot.
Embarrassed by the sham, the election authorities ruled on September 19 to invalidate the results and hold new elections. The head of Russia's Central Election Commission, Ella Panfilova, promised to "ruthlessly cancel" any election that occasioned instances of fraud. Putin's spokesman Dmitrii Peskov supported her decision, adding that Putin himself had often spoken about the "priority of clean and fair elections." New elections are to be held in December, and may yet result in a victory for Tarasenko and United Russia. If not, why not try again? Unable to get elected through outright fraud, Putin's party may well win by outlasting its opponents in the election ring. In the meantime, Putin's candidate retains his position as the acting governor.
The Primorsky Krai run-off fiasco coincides with an important anniversary. Thirty years ago, Mikhail Gorbachev introduced democratic elections, resulting in a dramatic upset for the ruling Soviet Communist party. It was also Gorbachev who first opened Primorsky Krai to the outside world, intimating that one day the region would look like California. Thirty years later, in a historic irony, the Soviet Communist Party's successor – the Russian Communist Party – has been denied victory by the ruling regime, making the Maritime Province look less like California, and more like Chechnya.
But here is a downside for Putin. Reliance on fraud undercuts the government's legitimacy. An illegitimate government, supported by little else other than the mechanism of raw state repression, may yet last for a very long time, but the pent-up resentment will not go away. Vladivostok, seven time zones away from Moscow, is too far away to make a major dent at the center of power. But even amid all the societal apathy, the rumblings are clearly audible. Democratic change, like a long-awaited dawn, may yet come from the Far East.
Sergey Radchenko, a native of the Russian Far East, is Professor of International Relations, Cardiff University, Wales, Global Fellow at the Woodrow Wilson International Center for Scholars in Washington, D.C., and Zijiang Distinguished Professor at East China Normal University in Shanghai, China. Follow him @DrRadchenko.