Interview With Indian 'Instant Divorce' Victim Nida Khan
How one woman is fighting against injustice, ignorance, and violence toward women in the name of religious practices.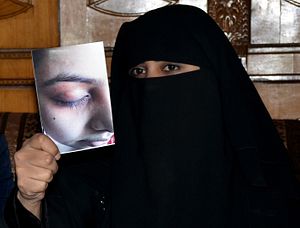 The crowded and cluttered Shahdana Road in the north Indian city of Bareilly has found a new address of prominence. Between two shops, a passage leads to a staircase up to the first floor of a house where a man named Masarrat Yaar Khan lives. But for last few months, visitors have been pouring in for his daughter, Nida Khan.
Nida was a typical girl next door, preparing for her master's degree, until recently. She was married in February 2015 to Sheeran Raza Khan, who hails from the family of Ala Hazrat, an Islamic scholar, jurist, Sufi, and the founder of the Barelvi movement, which has over 200 million followers in South Asia. Her life changed soon after her marriage, which lasted for only five months before Nida became a victim of domestic violence, then "triple talaq," or instant divorce.
Through her new non-profit group, Ala Hazrat Helping Society, Nida now counsels other Muslim women to protect them from harmful traditions like triple talaq, polygamy, domestic violence, and nikah halala, a practice involving a female divorcee marrying another man, consummating the marriage, and then getting a divorce – all to allow her former husband to remarry.
Recently, a fatwa was issued by Marqazi Darul Ifta of Dargah-e-Ala Hazrat, ostracizing Nida from Islam and the community for speaking out against "Islamic practices." This was followed by the head of Faizan-e-Madina Council, a Bareilly-based organization, announcing a cash prize for throwing her out of the country. Later, her father was also barred from offering prayers at the Shadana mosque. But she remains determined to fight against her husband and sections of Muslim society which have cast her out.
Here are edited excerpts from an interview with Nida, which gives a glimpse of a clash between a version of Islamic law and Muslim women demanding equality and fair treatment:
You were married into a family of fame and repute. So what went wrong?
That's true. I and my parents felt fortunate to get associated with a family which enjoys great respect and honor around the world. I had no aspirations other than completing my post-graduation, and they promised they would let me do that. But, after the marriage in February 2015, I realized that the reality was far from what I had expected. The day after the marriage, I was asked to fetch 100,000 rupees (roughly $1,400) from my parents, which my husband said was required for Walima, or the marriage banquet. I refused. Then I was scoffed at for not bringing in enough dowry, and my husband asked for a car.
In March, I had to appear for my master's exams and my husband took me to the examination center for the first exam. But he dragged me away from the examination hall while I was writing my second exam. There were teachers and police, too, but no one dared to stop him. This was his way of showing his power and influence. This incident was reported in newspapers without any mention of his name and he pointed this out to me, saying that even media can't go against him or his family.
When my father had an attack of paralysis, I was allowed to visit him in the hospital only once. I wasn't allowed to visit my parents. I was given a deadline to buy a car for the family. I refused. One night I was assaulted so badly that I had a miscarriage. Later, on July 17, 2015, I was thrown out of the house. Since then I have been staying here, with my parents.
How and when did you decide to fight back? Knowing well how influential your husband and his family are, what gives you the confidence?
It was when I lost my baby. I was hoping that things would improve after we had a baby, who was my only hope. Even after leaving his home I had some hope and was ready to forgive him. But I came to know that he is planning to remarry. I went to the woman's home with my mother and told them every bit of my sufferings, showed them my medical documents and pictures of my wounded face. Later, that family confirmed my version from other relatives and declined his proposal. He got furious and visited and threatened me.
It was after this incident in May 2016 that I decided to take a stand, and tried to lodge a police complaint. But police refused to register it. My FIR [First Information Report] was filed after a court order.
The investigation officer submitted a final report without my statement or even speaking to me, and in less than a month. I filed a protest and demanded a fresh investigation. The investigation started in April 2017 and the chargesheet was submitted in June 2018. Police took nine months to record the statement of the pathologist.
Recently, your father was forbidden from offering prayers in a mosque on the ground that a fatwa was issued against you — although Shahar Qazi denied issuing a fatwa in your name. What is your take?
This was to pressure me. The police didn't submit the chargesheet in court although they had finished the investigation and had framed charges. Citing communal tension, they sought the opinion of the Senior Prosecution Officer, who suggested they submit the chargesheet to the court. Summons were issued. They know that the crime under IPC 313 (causing a miscarriage without woman's consent) is a non-bailable offense and the punishment is life imprisonment.
The fatwa came after I held a press conference against the practice of nikah halala and polygamy to underline the plight of Sabina, who was being forced into halala with her father-in-law. My fight is against injustice, ignorance, and violence toward women in the name of religious practices; it is not against Sharia. But I was declared void of my fundamental rights and ostracized from Islam. There is a universal law and I don't think any individual has the right to decide my fate. If the fatwa was not against me, then why the clerics mentioned my name in a press conference? The video clip of this press conference is in the public domain. They issue dozens of fatwas every day but don't share it with media. As I said earlier, it is to put pressure on me and my family to back off.
You are fighting for other women also, so what do you have to achieve for yourself?
Respect for me and my family is all I want… No mother would spare the murderer of her baby.
After my police report, they tried to settle the matter through mediation but when I came for a mediation session, he [Sheeran] threw a bundle of papers saying that he had divorced me. It was more of an insult than a shock. I challenged it and a civil court declared the divorce invalid. At a court hearing, I was threatened with an acid attack.
Even in those five months of togetherness, he often intimidated me [saying] that I can do no harm to him or his family. Those threats now strengthen my commitment not to spare him. This is why I have always mentioned that my fight is against Sheeran, and not against the religion or Dargah.
Why do you think women have to suffer so much despite laws that protect their rights?
During my legal fight, I read a lot about the provisions of law for victims but the ground reality is different. Police didn't acknowledge my complaint; a typist refused to type my application for fear of the fatwa; a junior of my advocate refused to accept samosa, an Indian snack, from me. But I can't file a case for such humiliations that I face at every step.
Women are not well aware of their rights and that's why they fear fighting ill practices. Take the example of halala, which was a punishment for men who divorced but they have cleverly turned it into a business. Men are at liberty to divorce wherever they are, away from home, in the market, sleeping in the bed. They just have to utter a word and the women will bear the burden of it for the rest of their lives. I don't think that is the spirit of religion.
My fight has set an example for many who otherwise would have chosen to suffocate in a corner of their parents' home. I feel stronger as victims are daring to fight. Last year, I founded Ala Hazrat Helping Society to extend whatever help is possible and take their fight to appropriate platforms.
You met a minister of Uttarakhand and there are speculations that you are joining the BJP, India's current ruling party. How is politics going to help in your cause?
Yes, I had gone to meet Women and Child Welfare Minister Rekha Arya and a few others in the city of Dehradun. It was a secret meeting to discuss how we could take the fight of women's rights to a larger platform. But when I started receiving phone calls, I realized that BJP leaders in Uttarakhand had already shared with media about our meeting and this is what resulted in speculations.
No, I've not decided yet to join any political party, but there is nothing wrong in politics as long as it helps me spread more awareness and supports the cause of women rights.
Prabhat Singh is a journalist with StoriesAsia