Is This the Revival of Russia-India Economic Ties?
Russia and India have shared interests that may lead them back to deeper cooperation.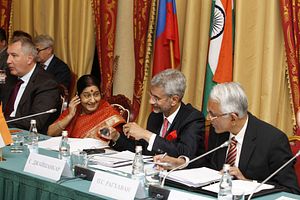 For the last several years Russia and India have been struggling to retain the legacy of their long-term friendship as their foreign policy courses have moved slowly in opposite directions. However, U.S President Donald Trump's approaches to global trade and other issues exposes shared interests yet again between Moscow and New Delhi. Both realize that in order to mitigate the consequences of U.S. actions, they should focus on their shared interests. 
The last week saw an intensification of the bilateral dialogue between Russian and Indian officials. Indian Minister of Commerce and Industry, and Civil Aviation Suresh Prabhu led the Indian delegation at the Eastern Economic Forum (EEF) in Vladivostok from September 11-13. Meanwhile, External Affairs Minister Sushma Swaraj visited Moscow on September 13-14 where she met her Russian counterpart Sergey Lavrov and co-chaired with Deputy Prime Minister Yury Borisov the India-Russia Intergovernmental Commission on Technical and Economic Cooperation. Both visits were aimed at bolstering economic ties and preparing the ground for the upcoming summit between Indian Prime Minister Narendra Modi and Russian President Vladimir Putin. 
Prabhu's visit to the Far East was an attempt to build bridges between Russian and Indian regions. In the last few years the two sides have been pushing for greater inter-regional cooperation. A series of meetings between Prabhu and Russian Deputy Prime Minister Yury Trutnev, Minister of Economic Development Maxim Oreshkin as well as governors, vice governors and representatives of regions of the Far East may raise expectations for a breakthrough in Russia-India economic cooperation. Yet, each previous iteration of high-profile interactions has proven to be not much more than optics. In reality, while multiple photos and press releases become history, the results are, as a rule, limited. Discussions on "mutual cooperation in sectors like mining and geological exploration in gold and diamond, water cooperation, forestry, timber and agriculture" may be thought-provoking, but their outcomes often remain merely on paper. 
While officials from both states woo each other in an attempt to attract investments, at the end of the day neither side has either the will or resources to plough money into the other's economy. Unless the two countries' businesses – small and medium enterprises in particular – get interested in engagement, the economic track is unlikely to change. Hesitance on the part of businesses is, to a wide extent, determined by a lack of interest and insufficient knowledge in conjunction with some misperceptions and fears.  
This year the Russia-India business dialogue was not a part of the EEF official program, though the Indian delegation comprised a number of companies like KGK Group, the Tata Power Company Limited, Sun Group, Jungle Travels India, Assam Bengal Navigation Company, and Suzlon Ltd. However, interactions at the business-to-business level is slated to increase in the near-future with the first India-Russia Business Summit involving major companies to take place in India in early October and the "Day of the Indian Investor" to be held in Vladivostok in November. 
The results of the bilateral Inter-Governmental Commission meeting do not reveal the current state of affairs in the bilateral dialogue. Even though the officials juggle statistics indicating 30 percent trade growth and 20 percent rise in inflow of tourists compared to the previous year, the absolute numbers are not so impressive. The turnover between the states keeps fluctuating just around $10 billion making the two sides' commitment to hit $30 billion a complicated task. The good news, however, is that "the two-way investments have already crossed $30 billion target" and Russia and India now pledge to "enhance this figure" to $50 billion by 2025.  
A chronic impediment for stimulating trade relations is the issue of logistics. The Indian Ministry of Commerce and Industry's press release acknowledged that "India's existing engagement with the region [the Russian Far East] is limited to isolated pockets… and connectivity between India and Vladivostok ha[s] to be simplified, affordable and time efficient." 
A solution to this long-lasting problem has yet to be found. In September 2017, when Swaraj was attending EEF-2017, the idea of establishing a Vladivostok-Chennai sea route was discussed. Nothing has changed since then as the connectivity project turned into a moribund idea. Whether it is reasonable to start implementing a project like this taking into account the long history of International North-South Transport Corridor (INSTC) is an open question. 
Apart from boosting the trade, the two sides are now addressing the issue of U.S. sanctions affecting defense contracts. One of the proposed remedies against restrictions – the rouble-rupee transfer – has been discussed since 2014. According to Yuri Borisov, the share of "settlements in roubles" is already 20 percent of the overall trade and the further "expansion of settlements in national currencies" is planned. Bearing in mind that India's trade deficit with Russia amounts to almost $6.5 billion, the shift to rouble-rupee payments will be a rocky process. How long will the transfer to national currencies take and how (if at all) it is to be implemented with regard to large defense deals such as India's acquisition of S-400 or four Talwar-class frigates? As the main part of the inter-governmental discussions is unavailable for the public, the answers to these and other questions in Russia-India relations may be given on October 4-5 during the summit between Putin and Modi.  
It is obvious that achieving a breakthrough in trade will require intensive efforts and innovative approaches to cooperation. A popular belief in Russia holds that the sanctions bring about, aside from obstructions,  windows of opportunities. If so, then it is high time Moscow and New Delhi unleashed the full potential of their economic ties.
Aleksei Zakharov is a research fellow at the Institute of Oriental Studies of the Russian Academy of Sciences. Currently he is a Visiting Fellow at the Institute for Defence Studies and Analyses, New Delhi. He writes on Indian foreign policy, Russia-India relations and international affairs in the Indo-Pacific. Follow him on Twitter @AlexisZakharov