Japan Holds Off US Auto Tariffs. But at What Cost to Farmers?
In an effort to spare Japan's auto industry from U.S. tariffs, Abe launched bilateral trade negotiations with Trump in New York.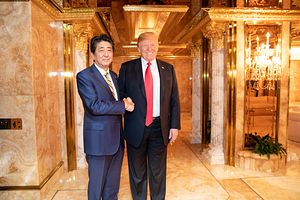 On Wednesday, Japan agreed to start two-way U.S. trade talks after facing mounting pressure to open its agricultural sector to U.S. imports. In exchange for entering into negotiations, Japan dodged an additional 25 percent tariff on automobile and auto part imports that would cost Japan's auto industry tens of billions of yen.
Trump's obsession with bridging the U.S. trade deficit through protectionist policies has been a top priority since he took office. More recently an escalating tit-for-tat trade war with China has seen the Trump administration look to diversifying trade routes, including by shifting attention to Japan as a underexplored market for U.S. exporters under threat from China's retaliatory tariffs.
In a trade summit held on the sidelines of the UN General Assembly meetings in New York, close friends and allies U.S. President Donald Trump and Japanese Prime Minister Shinzo Abe issued a joint statement. Trump said he respected Japan's position not to exceed tariffs cuts on agricultural products already established in the multilateral Trans-Pacific Partnership (TPP) agreement that the Trump administration withdrew from last year. Currently, Japan applies a 38.5 percent tariff on fresh and frozen beef that will be incrementally reduced over 16 years to eventually 9 percent for the pact's 11 member states. Without going into detail Trump said the deal was "exciting" and "things could only get better because it couldn't get any worse than what has happened over the years."
Although Japan has stressed new trade talks are different from a comprehensive free trade agreement (FTA) and more in line with a trade agreement on goods (TAG), it's no different than the bilateral trade talks that Japan has sought to avoid for two years. However, with no concrete timeline in place a TAG could take years to evolve giving Japan an advantage in stalling the deal until the U.S. midterm elections in November. However, in a telephone call with Abe, U.S. Trade Representative Robert Lighthizer upped the pressure by saying that in the coming months he aims negotiate at a "high pace" to produce swift results.
Abe's UN General Assembly address stressed the pursuit of the free trade system as Japan's mission. While Abe told reporters he was seeking a win-win relationship, experts say Trump's push for a bilateral agreement does more to serve his self interest. Given Trump's unpredictable tactics experts warn that Abe could be forced to make more allowances to meet Washington's unexpected demands into agricultural sectors below the TPP level.
Immediately after landing back in Tokyo, Abe headed to a cabinet meeting where he dealt with an influx of concerns and resistance from agricultural groups which face an uncertain future in key areas such as rice, wheat and beef. Japan's Agriculture Minister vowed that U.S. trade talks would be carefully evaluated to prevent adverse effects on domestic industry.
Japan's $69 billion trade surplus with the United States makes up only 10 percent of the overall U.S. trade deficit. Imposing tariffs on Japanese imports in the long term makes little sense. However, over 70 percent of Japan's total exports to the United States stem from the automotive trade putting Japan in a vulnerable position. Despite trying to entice Trump to rejoin the multilateral TPP, Abe's reluctance in accepting a bilateral U.S. trade deal draws attention to his own negotiating skills and his ability to maintain a hard-lined posture all the way through.