Japan Loses Bid to Reinstate Commercial Whaling
After a week of heated debate, Japan's proposal to legalize whaling has been rejected by the International Whaling Commission.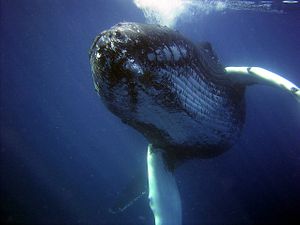 Tensions were running high between Japan and anti-whaling nations as the annual International Whaling Commission (IWC) conference in Brazil wrapped up voting against a Japan-led proposal to lift a decades-old ban on whaling.
Japan's 70-member delegation failed to overturn the 1986 moratorium that pauses commercial whaling on all whale species after being defeated by a vote of 41-27. Japan argues the IWC ban is "counterproductive" for the global governance of conservation and management of whale resources as endangered whale populations have rebounded to healthy numbers — enough, in Japan's argument, to reintroduce sustainable hunting.
The assistant director of Japan's Fisheries Agency stressed that the International Convention on the Regulation of Whaling's purpose to conserve whale stocks was intended as a temporary measure and that the time has come to amend the ruling based on scientific data. Japan's controversial "Way Forward" package proposes the creation of a sustainable whaling committee in order to allow countries to hunt healthy whale populations within set catch limits.
Japan's push for IWC organizational reform towards sustainable "resource management" rather than focusing on "subjective" conservation sparked fierce opposition from anti-whaling countries such as Brazil, Australia, and New Zealand, which argue whale populations will become endangered again if the ban is lifted and full-scale commercial whaling takes effect.
Despite Japan being a signatory to the IWC's 32-year-old moratorium, it currently exploits a loophole for "scientific research" that is backed by Iceland and Norway, which also continue to kill for commercial purposes. While the Japanese delegation has placed enormous weight on finding a balance between conservation and sustainable hunting, they claim that Japan has "never taken the importance of conservation lightly" and demand recognition for the role subsistence whaling has in Japanese culture and tradition.
The Australian delegation hit back, criticizing Japan's bid as an "industrial business venture" entirely different from small-scale subsistence whaling. Australia dismissed Japan's whaling as a product of modern, post-World War II culture. In another slap in the face for Japan, the Brazil-led non-binding "Florianopolis Declaration" renouncing commercial whaling as an unnecessary economic activity was also signed by a majority, 40 votes to 27.
With the significant blow to their plans to revive the local whaling industry, the Japanese delegation alluded to leaving the IWC, announcing a "fundamental reassessment of [Japan's] position as a member of the IWC." Japan's state minister of agriculture, forestry, and fisheries slammed the IWC as an "intolerant" and "dysfunctional" organization that does not respect diversity of opinion. Similarly, the ambassador from the Caribbean island nation of Antigua and Barbuda criticized deadlock within meeting as stemming from the lack of objectivity and respect for the views of all parties participating.
Meanwhile, in a setback to stronger conservation measures, Japan voted on Tuesday against creating a whale sanctuary in the South Atlantic, arguing that no scientific justification has been offered by anti-whaling nations for establishing the whale sanctuary as no commercial whaling activity takes place in the South Atlantic.
However, environmental groups pushed back, saying whales are not the property of an individual country and have been driven to near extinction status countless times — to the point where sanctuaries provide the only chance of recovering whale populations to pre-whaling times.
Although 60 percent of members were in support of a new sanctuary, 25 votes against prevented the necessary three-quarters consensus, leading Brazil's Environment Minister Edson Duarte to vow to continue the fight irrespective of the IWC result.