Mahathir Visit Spotlights Malaysia-Brunei Relations
The voyage spotlighted the quick high-level engagement between the two sides as the new Malaysian government's foreign policy takes shape.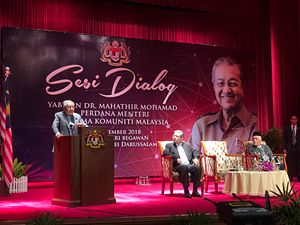 From September 2 to 3, Malaysian Prime Minister Mahathir Mohammad embarked on his first official visit to Brunei since taking office in May. The trip highlighted the ongoing activity within the bilateral relationship between the two Southeast Asian states under the new Malaysian government and the opportunities and challenges that lie ahead.
Malaysia and Brunei, two early members of the Association of Southeast Asian Nations (ASEAN), have a bilateral relationship that dates back to 1984 when Brunei got its independence from Britain. Both states share a land border and cultural and linguistic similarities, and have attempted to forge greater political and economic cooperation over the years in spite of some differences over boundaries and borders.
Following Mahathir's return to the premiership following a shock election victory by the opposition Pakatan Harapan (PH) government in May, the Malaysia-Brunei relationship had gotten off to a quick start, with Sultan Hassanal Bolkiah making a personal visit to Malaysia to congratulate Mahathir following his assumption of the premiership in May. That made him the first foreign head of state to do so, even before a Malaysian government had been fully formed.
This week, the relationship was in the headlines with Mahathir's first visit to Brunei since reassuming the premiership. Mahathir's voyage, his second to a Southeast Asian country following a trip to Indonesia, was billed as part of a series of trips around the region to establish ties with Malaysia's neighbors and other key states. He was accompanied by a delegation that included Foreign Minister Saifuddin Abdullah and other officials from the foreign ministry and the prime minister's department.
Mahathir's official visit comprised several engagements. He and the Malaysian delegation engaged in meetings with top Brunei officials, including Bolkiah. While Bolkiah noted the well-rounded nature of the relationship, the media coverage focused on how both sides would handle some specific economic issues where challenges had emerged previously, including the development of the Pan-Borneo Highway and the Limbang oil concession agreement.
Mahathir also participated in a gathering with Malaysians in Brunei and gave an address at the University Brunei Darussalam. Though those meetings were also meant to reinforce the significance of bilateral ties and the commonalities shared by the two countries, they also saw him address a range of other topics, from how he planned to transition power to his former deputy prime minister Anwar Ibrahim to gender roles and the importance of the youth embracing information technology.
The specifics in the bilateral relationship will take shape gradually in the coming months as issues are worked out at the working level. Nonetheless, the early high-level engagement between the two leaders as the wider foreign policy of the new Malaysian government takes place is a notable variable within that wider, dynamic context.