Military Drills Put UK-Brunei Defense Ties in the Spotlight
A closer look at the significance of the holding of another iteration of a bilateral exercise.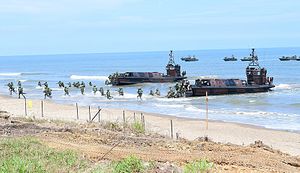 The UK and Brunei recently held another iteration of a key amphibious exercise between their two militaries. The carrying out of the much-anticipated drills, which received high-profile attention in Brunei, reflects both the longstanding significance of the defense relationship between both sides in the wake of broader domestic and regional developments at play in the wider Indo-Pacific region.
The UK-Brunei defense relationship is a longstanding one, and it has continued even following the Southeast Asian state's independence from Britain in 1984. Indeed, Britain still maintains a military presence in Brunei till today in one of the few such arrangements it has globally, and both sides continue to maintain close security ties.
Of the various defense engagements that both sides interact in, one of the exercises is Setia Kawan. The exercise was first conducted in 1988 between the Royal Brunei Armed Forces and the British Armed Forces, officially recognized by Brunei as Setia Kawan I, followed by one in 1997, which was recognized as Setia Kawan II. Setia Kawan has been viewed as an amphibious exercise to promote interoperability between the two sides, with the involvement of several elements of their forces designed to address key security challenges.
Over the past few days, we have seen another iteration of the exercise carried out, which was officially characterized by Brunei as Setia Kawan III. The exercise, which took place at Penanjong Garrison, Tutong, had been widely anticipated, and was carried out following several other launch activities that were tied to it. Among the highlights was the arrival of the Royal Navy ship HMS Albion to Brunei, which was on its second visit to the country in 2018 and on another in a series of engagements during its nine-month deployment to the Pacific Rim indicating Britain's strengthening defense contribution to the region, which has included several Southeast Asian nations as well.
In yet another indicator of the significance of the exercise to Brunei, Brunei Sultan Hassanal Bolkiah, who also holds the position of defense minister, made an appearance at the Setia Kawan exercise, and he was joined in this by other top political and defense officials as well.
According to a statement by Brunei's defense ministry released on September 10, during his observation of the exercise, he took a tour of the HMS Albion, inspected an honor guard at Binturan Shooting Range, and witnessed other activities including a combined amphibious demonstration and a static display of the Amphibious Beach Unit.