The Right Ways to Take US-India Energy Cooperation to the Next Level
A renewed focus on energy can be leveraged to build strategic partnerships for both countries in the Indo-Pacific region.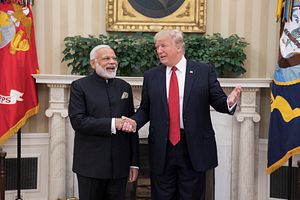 Few people know of the breadth of energy cooperation between the United States and India. Historically, this cooperation spanned initiatives supported by various government agencies and covered a wide spectrum of sectors from fossil fuels to zero-carbon technologies. In fact, energy cooperation is considered one of the bright spots in U.S.-India relations. Both sides recognize that an energy secure India is of interest to not only for India's development needs but is necessary part of the U.S.'s vision for a free and open Indo-Pacific. Over the last two years my team and I at CSIS have been busy identifying stakeholders who can deepen energy cooperation between the two nations. Now on the eve of the U.S. – India "Two Plus Two" Dialogue between the senior most officials from the two countries' foreign affairs and defense departments I outline some recommendations for how to strategically bolster U.S. – India energy relations.
Facilitate State-to-State Energy Cooperation 
The United States and India are both collections of powerful states. States are the laboratories of innovation: from the design of new policies and programs to testing and deploying new technologies. The sharing of these ideas and experiences of deploying emergent technologies can facilitate new avenues of cooperation in energy policy and commerce between states that share similar energy resources and interests. Just last year, the State Department's Bureau of Energy Resources supported CSIS and its India-based partner, the Shakti Sustainable Energy Foundation, to organize the first-ever subnational energy workshop between the two countries to discuss how states in both countries are facing the challenge of managing the grid of the future. Insights from these conversations, which can lay the groundwork for building productive subnational partnerships, need to feed into to the bilateral dialogue run by New Delhi and Washington, D.C. Doing so, perhaps through a recognized forum, would truly deepen energy cooperation between the two countries.
Create New Task Forces Open to Private Sector and Research Institutions
The government-to-government dialogue on energy between the two countries used to be closed to the private sector and had limited participation from those research institutions that were funded by India's Ministry of Science & Technology and the U.S. Department of Energy. Yet the role of these two stakeholder groups will be critical to creating, testing, and commercializing new technologies. As the two countries chart out ways for greater private sector and research institution cooperation to manage their energy transitions, new focused task forces should be created that allow for public-private partnerships to form along the lines of what policymakers identify as priority areas. These task forces could focus on the following technology areas:
Power & Energy Efficiency: Both countries are undergoing an energy transition that includes an influx of electricity from renewable sources, management of stressed thermal power assets, the rise of distributed generation, and the strong focus on demand side management measures. New technological solutions, new business models, and learning from pilots in both countries can be shared to achieve their collective energy security goals while managing the emergence of this new energy system.
Electric Mobility: All 50 U.S. states are creating plans for an electric mobility future under the Electrify America project while India's states are experimenting with the deployment of electric buses and transitioning their government owned automotive fleets to all-electric by 2030. Lessons are being learned on both sides about creation of charging infrastructure, setting up payment mechanisms and charging tariffs, and how best to support growth in manufacturing in this sector. Having strong automotive industries in both countries makes them natural allies to collectively focus on this opportunity.
Standards, Regulations & Security: Strategic energy cooperation between the two countries can truly be unlocked if stakeholders are developing and operating energy systems that function with similar sets of rules. The two sides should consider regularly convening key stakeholders from the U.S. Federal Energy Regulatory Commission with India's Central Electricity Regulatory Commission, the American National Standards Institute with the Bureau of Indian Standards, and those focused on cyber security for the respective countries' energy sectors. This can bolster bidirectional commercial opportunities and collectively improve the energy security of both nations.
Joint Research and Development: In 2009, both countries co-created a truly unique joint research and development (R&D) program to fund basic research in key technology areas. Both countries are also members of the Mission Innovation Initiative. The United States clearly has an upper hand being armed with a well-established and well-resourced network of energy laboratories spread across the country focusing on different types of technologies. At the recently concluded conference of power and renewable energy ministers of India's states convened by the government of India, it was announced that the country is considering the establishment of a national mission on R&D. A focused task force on what this might look like between the two countries would bolster the energy R&D capabilities of a major U.S. ally.
Strengthen Bilateral Energy Education, Entrepreneurship, and Skills Cooperation
Finally, ensuring job security, especially when faced with the prospects of greater automation in manufacturing, is a major concern for both countries. Endowed with abundant resources and human capital, the dynamic energy sector presents an opportunity for both countries to leverage to ensure that they are able to create new types of jobs. Building on the recently concluded Global Entrepreneurship Summit (part of a series started by the U.S. and recently hosted by India), the two sides should create a strategy to connect U.S. and Indian institutions that are focused on energy education, entrepreneurship, and skills development for the emergence of new energy technologies. This process might uncover ways that can add value to each other's manufacturing supply chain and possibly marry "Made in the U.S.A." and "Make in India" a priority of ruling political parties in both countries.
India as a Strategic Energy Partner
Energy security is a key pillar to further a nation's development agenda and fuel is economic growth. As a long-standing area of cooperation between the two nations, a renewed focus on energy can not only strengthen ties between the two nations but be leveraged to build strategic partnerships for both countries in the Indo-Pacific region. For example, India has extended lines of credit and technical assistance for the development of critical energy infrastructure in many parts of Asia and Africa. Meanwhile the United States recently announced the Asia EDGE Initiative which seeks to promote energy security and expand energy access in addition to working jointly with Japan on critical infrastructure projects in third-party countries. Aligning these strategies will take the U.S. – India energy partnership to the next level and help realize the shared vision for the Indo-Pacific for both countries.
Kartikeya Singh is Deputy Director and Fellow, Wadhwani Chair in U.S. – India Policy Studies at CSIS and Non-resident Fellow at the Payne Institute for Earth Resources at the Colorado School of Mines. Special thanks to Sidhanta Mehra, Senior States Manager, U.S.-India Business Council.