The Time is Right to Revive SAARC
BIMSTEC can't carry the weight of regional cooperation, but SAARC can.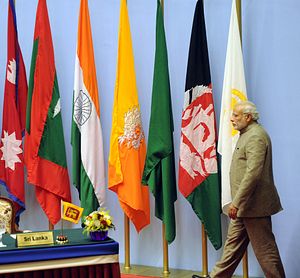 As the Bay of Bengal Initiative for Multi-Sectoral Technical and Economic Cooperation (BIMSTEC) flounders, the South Asian Association for Regional Cooperation (SAARC) remains the only viable option for South Asian integration. Holding its 4th summit since it was created in 1997, the BIMSTEC forum, which is comprised of seven South Asian and Southeast Asian nations, was resuscitated recently as a better option than SAARC for regional engagement. However, it has been noted that though both forums can complement each other, there is no possibility of BIMSTEC replacing SAARC.
Maintaining a huge difference in stature and size, SAARC has had 18 summits in the 32 years of its existence. and the forum has an extensive network of mechanisms, regional centers and conventions as well as a permanent Secretariat in Kathmandu, Nepal. On the other hand, the BIMSTEC has just 10 staff members to date, which includes the secretary general and three directors. There is no real comparison between the two organizationally. Nevertheless, the BIMSTEC members tried their best to bring the group to the next level, and recently India hosted the first BIMSTEC army exercises "MILEX 2018" in Pune. So far, neither SAARC nor the Association of Southeast Nations (ASEAN) have had such a military component.
However, both Nepal and Thailand chose to opt out of the exercises and preferred to remain observers, proving that security dialogues and counterterrorism efforts cannot supersede the importance of trade and regional connectivity. The absence of SAARC is creating an irreplaceable vacuum in the region as it focuses more on reinforcing regional trade and cultural links. Understandably, Nepal's Prime Minister K.P. Sharma Oli stressed during his parliamentary address this August that "while BIMSTEC holds great possibilities, there is nevertheless urgent need to revive SAARC." Having been too focused on security issues, BIMSTEC has failed to enthuse the membership which was more interested in a free trade agreement.
According to a World Bank report, at present, South Asia is "one of the least integrated regions" in the world, so there is an absolute need for a platform such as SAARC. To remain viable, SAARC could follow the example of ASEAN which holds together many countries with a lot of differences. Apparently, holding regular meetings on all kinds of varied issues such as health, pandemics, and cultural activities helps break the ice, and ASEAN holds many such events every year. Only recently, it was heartening to see as many as 80 agricultural experts and senior officers from SAARC nations address the issue of climate change and present their papers at the ongoing SAARC regional summit. Attending the inaugural session of a 3-day conference in Hyderabad, India, these experts hailed from Pakistan, Maldives, Nepal, Sri Lanka, Afghanistan, Bangladesh, Bhutan, and India.
The way things are going, if no SAARC summit is held this year, the organization may become redundant, while BIMSTEC has proved a non-starter. At the end of the day, there will be no South Asian regional grouping left, and all the SAARC countries will eventually join the Shanghai Cooperation Organization as many have applied for or already have observer status. Meanwhile, India and Pakistan managed to coexist at the Shanghai Cooperation Organization Summit this year. Following the summit, the armies of both countries participated in SCO military drills in Russia. Rebooting the SAARC mechanism may be possible this year if all goes well: Indian External Affairs Minister Sushma Swaraj and Pakistani Foreign Minister Shah Mehmood Qureshi are due to attend the SAARC Council of Ministers meeting in New York on September 27.
Chaired by Nepal's Foreign Minister Pradeep Gyawali, the event will be organized by Amjad Sial, the recently elected SAARC Secretary-General. Hailing from Pakistan, Amjad Sial is a veteran diplomat and was supposed to assume charge last year but for the delays that hit the SAARC process. Though the appointment is administrative and not diplomatic, that he was elected with the consensus of SAARC members is an optimistic signal. According to sources at the Secretariat in Kathmandu, Sial's election became possible as both India and Pakistan showed more willingness to allow SAARC to function.
Congratulating Pakistani Prime Minister Imran Khan on his electoral victory, Indian Prime Minister Narendra Modi followed up with a letter hoping for "constructive and meaningful engagement with Pakistan." In response, Khan pledged in his speeches that every step India takes would be reciprocated with "two steps" by Pakistan. According to Ajay Bisaria, the Indian High Commissioner to Pakistan, Khan also "stressed the need to restart a bilateral dialogue on all outstanding issues, including Kashmir." Right now, the general expectation of optimistic observers is that Pakistan's new government will propose to host the SAARC Summit in Islamabad soon, laying the ground for Modi to visit Islamabad.
Sabena Siddiqi is a foreign affairs journalist and geopolitical analyst with special focus on the Belt and Road Initiative, CPEC, and South Asia.