A New Take on General MacArthur's Warning to JFK to Avoid a Land War in Asia
"Anyone wanting to commit ground troops to Asia should have his head examined," Kennedy wrote of MacArthur's advice.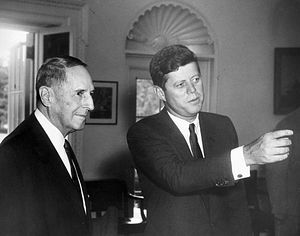 In April 1961, U.S. President John F. Kennedy held a private meeting with retired General Douglas MacArthur at MacArthur's suite at the Waldorf Astoria Hotel in New York City. MacArthur, 81, advised the young president, who sought his advice on the conflict in Indochina, to avoid a land war in Asia.
Almost all historians and biographers of MacArthur have interpreted that advice to Kennedy as stemming from his wartime experiences during the Korean War, where U.S. forces achieved only stalemate instead of victory and where MacArthur's illustrious but controversial military career came to an ignominious end.
But historian Mark Perry, a biographer of MacArthur, in a fascinating article in The American Conservative, traces the general's advice instead to Japan's war in China during World War II.
After the meeting, Perry notes, Kennedy memorialized MacArthur's advice in a document now housed at the Kennedy Library and Museum in Boston. Kennedy wrote that "MacArthur believes it would be a mistake to fight in Laos," and that "Anyone wanting to commit ground troops to Asia should have his head examined." MacArthur believed, Kennedy noted, that America's defensive perimeter in Asia lies along a line from Japan to Formosa (Taiwan) to the Philippines.
Three months later, Kennedy invited MacArthur to the White House and talked with him for three hours. Kennedy aide Kenneth O'Donnell later explained that the president told him and other White House staffers that MacArthur "implored the President to avoid a U.S. military build-up in Vietnam, or any other part of the Asian mainland, because he felt that the domino theory was ridiculous in a nuclear age."
Perry recounts the third and final Kennedy-MacArthur meeting in August 1962, which was "recorded by… a White House taping system." The general told Kennedy that America's greatest strength was its economy, and its greatest military asset in Asia and the Pacific was its unmatched naval power. The United States will always be outnumbered in Asia on the ground, MacArthur said, but "[t]he sea, beyond question, is ours." If the U.S. achieves victory over our communist enemies, MacArthur continued, "In the last analysis, the difference will be the Navy."
MacArthur understood, Perry writes, that America's victory over Japan in the Pacific was made possible by the Sino-Japanese War on mainland Asia, which sapped Japan's manpower and resources. Perry cites historian Rana Mitter's book Forgotten Ally: China's World War II, 1937-1945, wherein the author emphasizes that Japan in Asia, like Germany in Europe, fought a two-front war. Mitter told Perry that the United States "was desperate to keep China in the fight because their armies were tying down hundreds of thousands of Japanese troops who might have been used against the Americans."
Perry asserts that "the lesson . . . MacArthur had learned about fighting a land war in Asia wasn't the result of his experience in Korea, but of his experience fighting the Japanese in the Pacific during World War II." While MacArthur never explained his advice to Kennedy, Perry's interpretation is consistent with MacArthur's remarks about the importance of naval power and a strong economy, and his expressed views about the Korean War.
MacArthur made quite clear his belief that the decision to send ground forces to Korea after the communist invasion was sound. The Korean War was, after all, a peninsular war where the proper application of sea and air power combined with land power could have resulted in victory instead of stalemate. It is worth recalling that during the fighting in the southwest Pacific in World War II, MacArthur brilliantly employed a combined air-land-sea campaign to defeat Japanese forces on New Guinea.
Perry notes that Kennedy admired and respected MacArthur and his military advice, and implies that he would have followed it in a second term. Kennedy partisans over the years have made this same argument. It is one of the great "what ifs" of history.
Francis P. Sempa is the author of Geopolitics: From the Cold War to the 21st Century and America's Global Role: Essays and Reviews on National Security, Geopolitics and War. His writings appear in The Diplomat, Joint Force Quarterly, the University Bookman and other publications. He is an attorney, an adjunct professor of political science at Wilkes University, and a contributing editor to American Diplomacy.