Abe, Modi Herald 'Unparalleled Potential' in Japan-India Relations
The Indian prime minister's visit to Japan saw deepening ties across the board, especially on defense.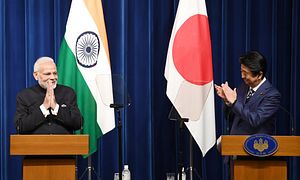 India and Japan have pledged to deepen their defense and security ties while further elevating their diplomatic exchanges. The moves – announced during Indian Prime Minister Narendra Modi's two-day visit to Japan – include the start of negotiations on a military logistics agreement that would pave the way for expanded defense cooperation.
Japanese Prime Minister Shinzo Abe welcomed Modi to Tokyo for a summit meeting on Monday, during which the pair affirmed the importance of the bilateral relationship to regional stability. They had spent time the day before at Abe's private holiday home in Yamanashi prefecture near Mount Fuji, a privilege that he had never before extended to a visiting foreign leader, highlighting their close personal chemistry.
"Relations between Japan and India have the biggest potential in the world," Abe said at their joint press conference in Tokyo, as translated by Kyodo News. "A strong Japan benefits India and a strong India benefits Japan." Modi added: "I believe until and unless India and Japan have strong relations Asia can never develop."
According to a joint vision statement, Abe and Modi recognized "the unparalleled potential for development of relations between the two countries" and believed that India and Japan should strive to work together for a rules-based and inclusive world order.
The visit comes just days after Abe made the first official visit to China by a Japanese leader in seven years. The joint statement issued by Abe and Modi touched on freedom of navigation and respect for territorial integrity, while elaborating on the values they viewed as guiding lights for the region:
The two leaders' vision for the Indo-Pacific is based on a rules-based order that respects sovereignty and territorial integrity of nations, ensures freedom of navigation and overflight as well as unimpeded lawful commerce, and seeks peaceful resolution of disputes with full respect for legal and diplomatic processes in accordance with the universally recognized principles of international law, including those reflected in the UNCLOS [United Nations Convention on the Law of the Sea], without resorting to threat or use of force.
There was a strong emphasis on closer defense and security ties, including the commencement of negotiations on an Acquisition and Cross-Servicing Agreement (ACSA), which would "enhance the strategic depth" of bilateral cooperation in this area.
Abe and Modi hailed significant progress in maritime security cooperation, as exemplified in frequent bilateral naval exercises and the deepening level of the Malabar Exercise, along with longstanding dialogues and training between the Indian and Japanese Coast Guards. They also welcomed the signing of an implementing arrangement for deeper cooperation between the Indian Navy and the Japan Maritime Self-Defense Force. They held out the prospect of closer cooperation on defense equipment and technology.
The leaders also decided to institute a regular Foreign and Defense Ministerial Dialogue, or two-plus-two, while separately launching an Annual Space Dialogue for enhancing bilateral cooperation in outer space.
When asked by The Diplomat at a regular press conference in Tokyo on Tuesday to describe the significance of the various defense and security agreements, Japanese Foreign Minister Taro Kono said:
India and Japan share common values like democracy, rule of law, basic human rights. I think it is a good idea for … the foreign ministers and defense ministers to get together, and talk about the regional issues or global issues. I think it would be a good start. We also are trying to start the negotiation on an ACSA, so I think we will be working closely with India, and I think it will benefit stability for the Indo-Pacific.
Japan and India also sketched out plans to work together on infrastructure development across the Indo-Pacific region, including Africa. Without mentioning China's Belt and Road Initiative directly, a jointly issued factsheet said Japan and India believed that all development cooperation "must be carried out in an open, transparent and non-exclusive manner and based on international standards including respect for sovereignty and territorial integrity of nations, responsible debt financing practices, and in alignment with local economic and development strategies and priorities."
They plan to cooperate in areas such as development of LNG-related infrastructure in Sri Lanka; housing, education and electrification projects in Myanmar; road, bridge and rail projects in Bangladesh; and business development and health initiatives in Kenya. These projects remain subject to further talks with host governments.
Tokyo is also helping to advance projects inside India, including high-speed rail modeled on Japan's shinkansen (bullet train) system. In the presence of their leaders, the respective ambassadors exchanged notes concerning low-interest loans for seven projects worth a total of 316 billion yen ($2.8 billion). This includes up to 150 billion yen for a high-speed rail line between Mumbai and Ahmedabad, which is expected to shave about five hours off the seven-hour travel time that applies to the current express train service along the 500 kilometer route, according to Japan's Ministry of Foreign Affairs. Other loans include several renewable energy projects, along with upgrades to the metro system in Delhi.
Overall, Abe and Modi highlighted the "maturity" of the special strategic and global partnership between Japan and India and concluded that it held "immense promise" in the years ahead.