Air Force Exercise Puts Brunei-Singapore Defense Ties into Focus
Both sides held the latest iteration of Exercise Airguard earlier this month.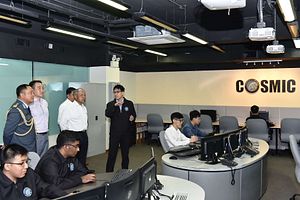 Earlier this month, Singapore and Brunei held the latest iteration of their joint air force exercise. The exercise once again put the spotlight once again on the defense relationship between the two Southeast Asian states amid wider domestic and regional challenges underway.
As I have noted before in these pages, Singapore and Brunei have a close defense relationship as part of their broader bilateral relationship. This is reflected not just in traditional aspects like exchanges, visits, and exercises, but also the fact that Brunei has benefited from the expertise of the Singapore Armed Forces, and Singapore's military also holds training in Brunei as it does with a number of its other key partners.
That has continued on into 2018 as well. To take just one example, in the realm of exchanges, in the month of August, Brunei's new second defense minister (the Sultan, Hassanal Bolkiah, still holds the defense minister portfolio) paid his first trip to Singapore, and Singapore's new chief of defense forces also had his first voyage to Brunei in his current capacity as well.
The defense relationship extends to their two air forces as well, and one of the manifestations of that is Exercise Airguard. Inaugurated in 1994, the annual exercise features personnel from the Royal Brunei Air Force (RBAirF) and the Republic of Singapore Air Force (RSAF) and is held alternately in the two Southeast Asian states.
This month, from October 1 to October 12, the air forces of Brunei and Singapore carried out the latest iteration of Exercise Airguard. The exercise, the 24th of its kind, was held in Brunei this time around, with the last one being held in late August and early September in Singapore.
According to Brunei's defense ministry (MINDEF), this year's exercise featured around 62 personnel from the No 2. Wing Operations Group of the RBAirF and the 18 Divisional Air Defense Artillery Battalion of the RSAF.
Unsurprisingly, no further details were provided on the specifics of the exercise by either of the two sides. Last year's Exercise Airguard, which featured around 70 personnel as well, was characterized by MINDEF as focusing on the joint planning of combined air defense operations by both sides.