As Modi Gears Up to See Abe Again, What's Holding Back India-Japan Ties?
Much work remains ahead for the India-Japan bilateral relationship.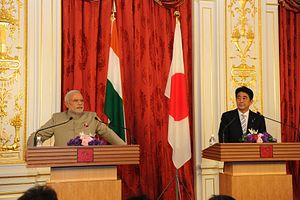 When Indian Prime Minister Narendra Modi took office in May 2014, the first country that he visited outside the Indian subcontinent was Japan. Since then, a lot has happened. Both Modi and Japanese Prime Minister Shinzo Abe have been caught up with a series of challenges both at home and abroad, which have limited their ability to maneuver adroitly on the global stage.
Now, Modi will be back in Japan on October 28 and 29 for the annual bilateral summit with his Japanese counterpart. It is important to emphasize here that India has this kind of an annual bilateral summit with only with one other country: Russia. That said, there are some factors that have lent an urgency to Japan-India ties of late. One of them is the growing realization of the importance of the Indo-Pacific, so much so that U.S. Pacific Command has now been renamed as U.S. Indo-Pacific Command.
The second is the rise of China, which has prompted other countries, including India and Japan, to sit up and take notice. Both India and Japan have territorial disputes with China.
The third is the mercurial foreign policy of the Trump administration in the United States, which has been propagating an "America First" strategy. This has upset traditional geopolitics in the region as we knew it. Washington has opened up to North Korea and seems all set to cut a deal with Pyongyang, which may not satisfy Japanese concerns (particularly about the abductions of its nationals and theater-range missiles). On the other hand, there is friction between Japan and the United States on the trade front.
Tokyo has been scouting for options in the meantime and India represents a very good one, given the long history of their ties and the absence of any kind of strategic divergences. India also occupies a prime position in Abe's own Indo-Pacific strategy.
On the other hand, Modi in India rebranded the earlier "Look-East Policy" as the "Act-East Policy" after he took office and has been promoting India's ties with Southeast Asian countries and countries like Japan. Tokyo is one of the biggest investors in India and Japan's financial and technological backing is key to meeting India's infrastructure financing deficit. The two are also joining hands in building infrastructure in India's northeast and they are also looking at joining hands in Sri Lanka and Africa.
That said, there are still many things that are holding back the ties.
First, economic ties between the two are nothing to crow about. Bilateral trade in the 2016-2017 fiscal was a meager $13.61 billion, which actually represents a decline of 6.21 percent over 2015-2016, when total bilateral trade stood at $14.51 billion.
Second, India seems to be wary of going full steam ahead with concepts like the "Quad" as could be seen in New Delhi's reticence to let Australia become a part of the Malabar naval exercises, which include Japan and the United States
Third, with regards to the field of defense cooperation, while India's private sector Mahindra Group signed a memorandum of understanding with Japan's ShinMaywa group to manufacture and assemble US-2 aircraft in India earlier in April this year, much more could be done in this field, especially as Japan under Abe has been eyeing increased arms exports.
However, there is still room for hope. Abe has been re-elected as the president of the Liberal Democratic Party for a third time, which means he could be Japan's longest-serving post-war prime minister. This augurs well for India as Abe has always been a great cheerleader for close Japan-India ties.
As Modi proceeds to Tokyo later this month, it is time to turn these promises into outcomes.
Rupakjyoti Borah is with the Institute of South Asian Studies at the National University of Singapore. Follow him on Twitter @rupakj.