Brief Detention, Fine, and Regional Ban for French Journalist Looking Into Zhanaozen
Seven years later, Zhanaozen remains a sensitive issue in Kazakhstan.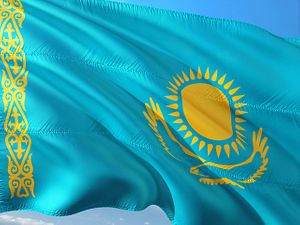 Last Thursday morning, Vincent Prado, a French journalist was detained along with his interpreter in the western Kazakh city of Aktau. Prado was released later that same day with a 61,000 tenge ($168) fine and a ban on working in the region. Prado, who Reporters Without Borders (RSF) says holds a Kazakh press accreditation, "was working on assignment for Ligne de Front, a French TV production company, and for the French TV channel M6."
According to RFE/RL, Prado was working on an investigation of the 2011 protests in Zhanaozen, which ended that December with Kazakh security forces firing on civilian protesters, killing at least 16 people (unofficial, i.e. non-government, counts are much higher).
Seven years after Zhanaozen, the issue remains incredibly sensitive for the Kazakh authorities.  On the surface, the issue remains a delicate one because what many term the Zhanaozen massacre took the shine off the progressive, democratic image Kazakhstan's leader — 78-year-old Nursultan Nazarbayev, now in his 27th year ruling Kazakhstan — wanted to present to the world. Kazakhstan recruited the services of former British Prime Minister Tony Blair to PR its way out of the shadow of Zhanaozen.
Zhanaozen ostensibly began as a workers' strike. But several months in, as the striking oil workers began broadening their demands beyond better pay and working conditions and into the political realm, Astana decided enough was enough.
As the New York Times' Andrew Kramer reported in December 2011:
For six months, the normally repressive government had allowed the workers to occupy the square, in the western oil town of Zhanaozen, where they demanded better wages. That changed after the strikers shifted their focus to political demands this week, including the right to form independent parties. (emphasis added)
Kazakhstan's authorities, seven years later, remain wary of any hint of serious political opposition. For example: In September, 44-year old Ablovas Jumayev was sentenced to three years in prison for using the Telegram messaging app to "incite social hatred" and anti-government leafleting on behalf of the banned Democratic Choice of Kazakhstan (DVK). DVK was formed by Nazarbayev's nemesis Mukhtar Ablyazov. Jumayev's wife, Aigul Akberdi, is currently on trial on related charges. As Eurasianet put it, she's "accused of talking up revolution in the same DVK-linked Telegram group," and because the messaging app counts as "mass communication" the charges carry more severe penalties.
Astana perhaps wishes that Zhanaozen would fade from memory, but that seems unlikely. Ironically, detaining a journalist looking into Zhanaozen draws more publicity to the issue than allowing the reporting to move ahead.
Prado was reportedly fined for "violating migration laws" and banned from filming in the Manghystau region. Tamara Kaleyeva, the head of Adil Soz, a local press freedom organization, commented in a series of Facebook posts that when Prado applied for accreditation he indicated in his statement the places he planned to film as "Kazakhstan, including Almaty and Astana." The authorities seem to have interpreted this as only Almaty and Astana. In a later post, Kaleyeva shared a link to the rules for accreditation of foreign media and commented that there is nothing about specifying exact locations.