Can Asia (and the UN) Hold Corporations Accountable?
Corporations across Asia are often implicated in human rights abuses. It's time to hold them to account.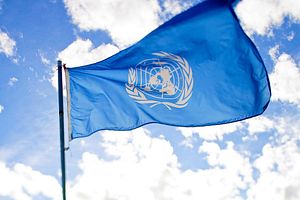 From a coal mine in Bangladesh that threatens to destroy one of the world's largest mangrove ecosystems to hundreds of people at risk of displacement from a mega-sugar plantation in Sri Lanka,  corporations and big business are often implicated in human rights abuses across Asia. Yet many of these crimes go unpunished. Companies are able to evade responsibility by operating between different national jurisdictions and taking advantage of corruption in local legal systems, not to mention the fact that many corporations are richer and more powerful than the states that seek to regulate them.
We must right this wrong. This week at the United Nations Human Rights Council in Geneva, over 100 countries are negotiating a powerful new treaty that aims to create a binding instrument to hold transnational companies accountable for violations of human and environmental rights. This could be a game-changer in the fight for justice.
A recent study by Friends of the Earth Asia Pacific  shows that while a number of Asian countries are supportive of the UN binding treaty on corporation crimes, many are failing to actively engage in the process or listen to the needs and demands of people impacted. Governments must do more as across Asia people's rights are being violated. Here are just a few examples.
Dirty Coal Threatens World Heritage Mangroves in Bangladesh
The World Heritage Sundarbans mangrove forest — which supports the livelihoods of 6 million people in Bangladesh and India, and is home to endangered Royal Bengal Tigers, Ganges and Irawadi dolphins, estuarine crocodiles, and the critically endangered endemic terrapin — is threatened by the Rampal coal power plant.
The 1,320 MW Maitree Super Thermal Power Project in Rampal, Bangladesh, is a joint venture of India's National Thermal Power Corporation and the Bangladesh Power Development Board, and is mostly financed by the Exim Bank of India.
The World Heritage Center is concerned about the impact that the Rampal power plant will have on the Sundarbans, in terms of air and water pollution as well as increased shipping and dredging. In 2016 the World Heritage Center recommended that Rampal coal power plant be relocated, or the Sundarbans could be potentially added to the List of World Heritage in Danger. Yet construction of the Rampal power plant is underway — and it is still right next to the Sundarbans.
People protesting against Rampal have faced severe repression, including arbitrary arrests and violent attacks. BELA/Friends of the Earth Bangladesh is part of the people's movement to save the Sundarbans, and demands that international finance be held accountable for environment and human rights violations, through the UN binding treaty being negotiated in Geneva.
Malaysia: Global Supply Chains Driving Land Rights Violations
The Orang Asli indigenous community, of the Temiar tribe in Ulu Kelantan, Malaysia, is staunchly defending its customary lands from logging, plantation, and mining. Community members set up road blockades in the Gua Musang district on numerous occasions this year, and succeeded in stopping logging operations several times. But the companies are becoming more aggressive, bringing weapons, intimidating protesters, and destroying the blockades. Each time the blockades are brought down, the community erects them again.
The Orang Asli community is not alone. Communities across Malaysia are facing human rights abuses and loss of livelihoods as their customary lands are destroyed for the profits of a few, through the actions of national companies and global supply chains relentlessly chasing profits. Malaysia currently supplies 44 percent of global palm oil exports, and in 2016 timber exports were worth more than $5.3 billion. Violations by agribusiness include encroachments onto traditional lands, evictions, and relocation to other less suitable areas.
"Our demands are simple: recognize the land… as ancestry status; ban all forms of logging, land clearing and mining in such lands; and help us rehabilitate the land," says Mustafa Along, Kelantan Orang Asli Villages Network chairman. "The jungle is our home. It is our world. Destroying the jungle will destroy our way of life."
SAM/Friends of the Earth Malaysia supports communities defending their ancestral lands, and insists that the UN binding treaty ensure companies are accountable for human and environmental rights violations anywhere in their supply chain.
Sri Lanka: A Bitter Sugar Land Grab
A large-scale $152 million public-private sugarcane project is being proposed in Dehigama-Rideemaliyadda, Sri Lanka. The Sri Lankan government, via the Mahaweli Authority, has already taken steps to lease over 18,000 hectares to the company for 99 years, and has made several attempts to grab these lands using the police. But local communities are resisting. Furthermore, a Singaporean holding company, Gazelle Ventures, would own 88 percent of the implementing company, Bibile Sugar Industries. Just 1 percent would go the farming community should it agree to the project.
The local communities are not prepared to lose their rights to farmlands, forests, and water. The project will negatively impact the water table and biodiversity, igniting human-elephant conflict as the elephants' remaining forest habitat is cleared.
CEJ/Friends of the Earth Sri Lanka believes the proposal does not comply with Sri Lanka's laws, and is a threat to human rights and the environmental, economic, and sociocultural rights of local communities. It is working with local communities to provide legal support, including by bringing complaints to the national Human Rights Commission in Sri Lanka. But it is often impossible to win local community cases because of corruption. It is therefore vital that the UN binding treaty include an international grievance mechanism ensuring justice for affected people.
Formal negotiations for the UN Binding Treaty on Transnational Corporations and Human Rights will continue from October 15-19. People across Asia are demanding binding rules to hold big business accountable and will make their voices heard at the United Nations.
This article is written by Friends of the Earth Asia Pacific, with contributions from Rizwana Hasan, Hemantha Withanage, Mageswari Sangaralingam, and Sam Cossar.