China's Former Internet Czar Lu Wei Pleads Guilty to Bribery
Lu is charged with accepting money and property worth more than $4.6 million.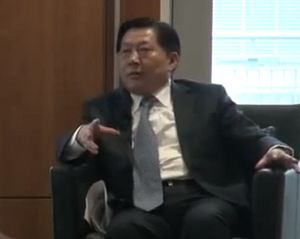 China's state news agency Xinhua announced that Lu Wei, China's former internet czar, went on trial on October 19 at the Intermediate People's Court of Ningbo in Zhejiang province. According to Xinhua, Lu pleaded guilty to bribery in court.
In front of "60 people including national and local legislators, political advisors, press and members of the public," Lu "made a final statement, pleaded guilty and expressed remorse in court," Xinhua said. "The verdict will be announced in due course."
As The Diplomat has been closely following, China established the Office of the Central Leading Group for Cyberspace Affairs, or the Cyberspace Administration of China (CAC) in 2014. Lu was appointed as the first director of the office. The CAC functions both as a government organ and a Party organ; this made Lu extremely powerful over China's internet industry. He was thus called China's internet czar. For example, most U.S. internet industry leaders, including Apple chief executive Tim Cook and Facebook founder Mark Zuckerberg, had conducted high-profile meetings with Lu, in an attempt to charm the Chinese government.
In 2015, Lu was even listed as one of Time magazine's 100 most influential people in the world.
However, in 2016, Lu was abruptly removed from his position as director of the internet office, although he still retained his position as vice minister of the Chinese Communist Party's propaganda department. In November 2017, the Central Commission for Discipline Inspection (CCDI) — China's top anti-corruption agency and the highest internal-control institution of the CCP — announced that Lu was under investigation for suspicion of "serious violations of discipline." In February, he was harshly condemned by the CCDI as a "shameless," "extremely disloyal," "double-faced man." The wording was highly unusual — an indication that the top authorities were extremely discontented with Lu personally.
According to Xinhua's latest announcement, the Ningbo Procuratorate claimed that over the course of 15 years — from July 2002 to the second half of 2017 —  Lu, taking advantage of his position of power to benefit organizations and individuals on matters related to internet management and personal promotion, had accepted money and property worth more than 32 million yuan (about $4.6 million) in person or through other individuals or entities.
Lu, 58, began his career as a reporter. Starting in 1991, he worked for Xinhua, where he was gradually promoted to the agency's senior leader. In 2011, he was elevated to the position of vice mayor of Beijing city, in charge of the propaganda department.
The Ningbo Procuratorate's accusations mean that Lu had been taking bribes throughout almost his entire career. But it's worth noting that the total value of the bribes he took was quite limited compared to other corrupt colleagues. For example, together with his wife and son, Zhou Yongkang — the first former Politburo Standing Committee member to be indicted for corruption in the history of the People's Republic of China —  had taken bribes worth more than $20 million.